Ahead Of Rivers Re-Run Elections : PDP Uncovers Plot By APC To Frame Up, Arrest PDP Leaders
…Says Those Penciled Down Include Leaders of Affected Wards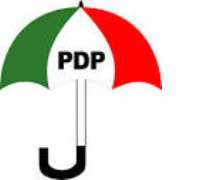 As part of plans to outsmart its opponents and coast home with undeserved victory in the December 10, 2016 re-run legislative elections in Rivers State, the All Progressives Congress, APC, has penciled down the names of members and supporters of the Peoples Democratic Party, PDP, they wish to cage during the re-run elections, the State PDP leadership has revealed.
Information from the office of the State PDP Chairman, Bro Felix Obuah and signed by his Special Adviser on Media and Publicity, Jerry Needam said the plot is to frame up unfounded charges against these people considered as stumbling blocks in the wards where the re-run elections will hold with a view to getting them arrested and detained by security operatives, before the December 10, 2016 date for the re-run election, and such persons would not be released until after the elections.
The State PDP leadership said it's in possession of the list of the names of all its members and leaders labeled and marked for the hangman's noose, stressing that the plot will be resisted with the last drop of their blood.
Those already marked for arrest include the PDP leaders in all the wards and units where the elections are holding, he added.
Information at the disposal of the PDP reveals that the APC leadership in the State including Magnus Abe, Barry Mpigi and other APC leaders in the affected areas for the re-run elections compiled the list of PDP leaders sent to the security agencies for arrest.
"We are therefore calling on the security agencies and the Nigerian people to take note of this evil plot which is certain to trigger off another round of avoidable crisis in the State due to the overzealousness of a few APC political desperados".
Warning against hatching such plot, the State PDP boss advised all PDP members and supporters not to panic but firmly stand their ground, believing that as usual, and God being on their side, APC will remain a bad loser it is.
Signed:
Jerry Needam
Special adviser on media and publicity
To the Rivers PDP Chairman, Bro Felix Obuah