LASU plans 6,000 hostel accommodation for students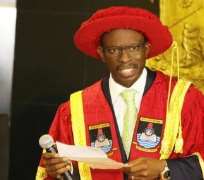 Vice-Chancellor, Lagos State University (LASU), Professor Olanrewaju Fagbohun, says about 6,000 students will be accommodated in the first phase of the institution's hostel projects.
Fagbohun disclosed this plan at the News Agency of Nigeria (NAN) Forum in Lagos.
'Hostel is a critical component of university life; one of the major things that it does is bonding.
'It allows and assists for bonding within the students and even for effective management of the students.
'The good thing about it, the House of Assembly and pursuant to the directives of Gov. Akinwunmi Ambode, we have now been authorised to go ahead with hostel accommodation for our students.
'One of the things that is very common with Nigerians is uncompleted projects and you see a lot of interferences of political this; political that; everybody wanting to be part of hostel development.
'We did not want to engage ourselves in that. So we brought in transaction advisers, we brought in Price Water Coppers.
'We did an advert for expression of interests and it was heavily subscribed, we had about 40 companies that applied.
'We have now passed all of that to Price Water Coppers to do the selection, checking financial capability; checking the technical competence; checking the track records; doing a comprehensive diligence on all of those who have applied and making a selection.
'What we want to do in the first phase is to accommodate between 5,000 and 6,000 students.
'This development is going to be done at Ojo; it will also go on at our Epe campus where we have the Faculty of Engineering, the School of Agriculture and PGS programme (Post Graduate Students).
Fagbohun said that the university had to take that initiative because if it asked government to build the hostels, 'it will not work because we all know there is so much demands on the purse of government. So government cannot do it alone.''
He explained that part of what the PWC was doing was to determine the rent at which to give the hostel rooms to students.
'This was a resounding point by the management during discussion that the charge must be affordable,'' he said.
He noted that the hostel charges must not be beyond the reach of the average student; it must be such that a student from any of the income group is able to afford.
According to him, the project will be done through public private partnership (PPP) as there is so much demand from the government by different sectors.