Fed Govt Negotiating Free Trade Agreements to expand market opportunities.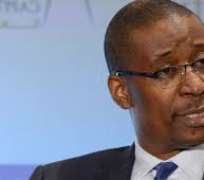 As part of this administration's plans to move the country out of recession, the federal government through the Federal Ministry of Industry, Trade and Investment is looking to restructure and encourage entrepreneurial development within the country and the world.
With this in mind the FG has said it is in the works of negotiating 21st century Nigerian free trade agreements with the goal of expanding market opportunities for Nigerian companies as well as looking into the ECOWAS Common External Tariff.
The Minister, Dr. Okechukwu Enelamah, said this during an interactive session with reporters at the Ministry in Abuja on Thursday.
He also gave a status report on the implementation of MITI's objectives to boost the Nigerian economy, part of which are Implementing of the Nigerian Industrial Revolution Plan (NIRP), Support Micro, Small & Medium Enterprises (MSMEs), and Support the Digitalization of the Nigerian economy.
Enelamah said the Ministry is updating Nigeria's trade policy priorities by working to correct imbalances in the country's trade relationships and reversing negotiating failures. One of those items it is examining at the moment is the Economic Community of West Africa States (ECOWAS) CET
He added that a few schemes such asthe Export Expansion Grant (EEG). which were shut previously due to improper implementation are expected to resume 2017. The scheme, he said will be included in the budget in order to manage the impact on government revenue and promote transparency.
Enelamah added that FMITI is also working with the Nigerian Investment Promotion Commission (NIPC) to enhance investments and reverse the overall decline of FDI in-flows.
The Minister said that approved liability on the Scheme for unused certificates which are either in the custody of exporters or awaiting issuance in the Federal Ministry of Finance, will be settled after the conduct of an audit to verify the actual amount due.
The Minister further explained that MITI is facilitating the setup of special economic zones throughout Nigeria to help overcome the infrastructure disadvantages faced by local manufacturers, and promote the cluster effects gained by locating similar manufacturing businesses together.
On Industry, he explained that the aim is to broaden the scope and accelerate the growth of the Nigerian manufacturing & industrial businesses, with a special focus on agribusiness and agro allied industries. Such as; auto assembly and component manufacturing, mining, sugar, food processing, textile and garments, palm oil, and leather.
MITI is working in partnership with the Bank of Industry (BoI) and other relevant government departments to support MSME's through funding.