Music: Runaway + Wavy - Phlexzywest (@phlexzywest)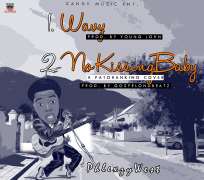 Phlexzywest, a young talented and promising act releases two songs again after releasing couple of singles since the start of this year. Previously he dropped "Runaway" a well delivered RnB song which got numerous plays and totally positive comments. Believe me he is one hell of a talent and his versatility goes beyond comprehension.
Every Label should look forward for this young talent "PHLEXZYWEST" Anyway is Patoranking "No Kissing" cover Produced by Gospel, while Every lover of Patoranking's music would definitely love it. On the other hand "Wavy" is a club banger all Dj's would love to play and definitely you would love to groove to it. Listen for yourself.
DOWNLOAD: Patoranking No kissing Baby Cover
DOWNLOAD Wavy (Prod. By YoungJohn)
DOWNLOAD LINK
Patoranking No kissing Baby Cover
https://my.notjustok.com/track/download/id/149420
Wavy(Prod. By YoungJohn)
https://my.notjustok.com/track/download/id/149421