Former Sultan of Sokoto, Ibrahim Dasuki, dies at 93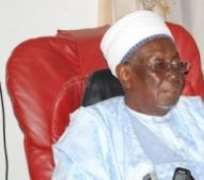 Former Sultan of Sokoto,  Alhaji Ibrahim Dasuki, is dead.
Dasuki, 93,  died Monday night in an Abuja hospital from a protracted illness in an Abuja Hospital. He would be buried on Tuesday by 2:00p.m, according to Muslim rites.
. His death was confirmed by a family member who said the Sultan died at a hospital in Abuja.
Prior to his death, he was known to be residing in Kaduna where he relocated to after his release from detention.
The former Sultan of Sokoto  was deposed by late General Sani Abacha who also ensured his detention afterwards .
The last public remark of Sultan Dasuki was a BBC Hausa service interview where he expressed his feelings about the search of his Sokoto residence by security operatives  in President Muhammadu Buhari's government who were allegedly gunning for his son, Colonel Sambo Dasuki.
Col Dasuki was the National Security Adviser to former President Goodluck Jonathan.
Sultan Dasuki in the BBC interview wondered why his personal house in Sokoto was searched and said he would leave everything in the hands of God.
Sambo his eldest son was still in detention at the time of his death despite having been granted bail by different courts.
No information was available about the cause of Sultan Dasuki's death.
Ibrahim Dasuki was the 18th Sultan of Sokoto , he was deposed in 1996 during the military government of Sani Abacha. Prior to becoming Sultan, he held the traditional title of Baraden Sokoto. Dasuki was the first Sultan from the Buhari line of the house of Dan Fodio . He was a close associate of Ahmadu Bello , a friend of Abubakar Gumi  and was influential in the founding of Jama'atu Nasril Islam .
After the death of Abubakar Siddique, the 17th Sultan of Sokoto on November 1, 1988, Dasuki was among the leading contenders to become the new Sultan. Some of his opponents included Shehu Malami and future Sultan, Muhammadu Maccido . Maccido was the son of Abubakar Siddique and he was popular among the populace in Sokoto, However, Dasuki was close to the administration of General Ibrahim Babangida .
On December 6, 1988, he was announced as the new Sultan to the dismay of some in Sokoto. The announcement led to five days of rioting in which 10 people died. He was considered a modernist against the wishes of some who wanted the traditionalist candidate, Maccido. As Sultan, Dasuki tried to endear himself to the Sokoto populace. He built 10 Quaranic schools in 1990 and established an adult literacy class. Dasuki also tried to unite the Muslim ummah through the reorganisation of Jama'atu Nasril Islam and the Nigerian Supreme Council of Islamic Affairs(NSCIA). He gave impetus to the appointment of Lateef Adegbite , who became the first Yoruba secretary general of NSCIA.
In 1996, Dasuki was called into the office of the military administrator of Sokoto, Yakubu Muazu and was told he was deposed as the Sultan. He was flown to Yola and then taken to Jalingo where he was placed in exile. Muazu gave some reasons for the banishment such as Dasuki was causing enmity among the people and among the royal family, ignoring government directives and traveling outside his domain without approval or notice from the government.
However, some believe he was deposed because of personal issues between him and General Sani Abacha. Dasuki's son in law, Aliyu Dasuki was a classmate of Sani Abacha and also his business partner. Aliyu died in 1992 and Ibrahim Dasuki handled his estate affairs after his death, Abacha was not comfortable with the management and disbursement of Aliyu's estate.