Shakeup at NNPC as Ndu Ughammadu returns as GGM, Group Public Affairs Division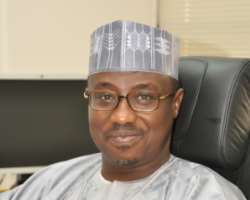 The Nigerian National Petroleum Corporation on Monday announced the appointment and redeployment of top management staff across board in a major exercise designed to reflect operational realities and ensure sustained performance and profitability.
In the re-organisation, which was communicated members of staff by the Group Managing Director of the Corporation, Dr. Maikanti Baru, via a podcast,  109 Management staff were promoted while 24 were redeployed.
Significant is the return of veteran journalist, Ndu Ughamadu as Group General Manager, Group Public Affairs Division. He takes over from Garba Deen Muhammad.
Ughammadu had earlier served in that position between 1999 and 2003.
Baru  said that the changes were informed by the desire to consolidate on the restructuring exercise through realigning jobs with requisite competences and experiences in line with international best practices while taking deliberate measures to ensure fairness and equity as well as the capacity to deliver.
"As you might have heard, His Excellency Mr. President has approved the High Level Organogram of the Corporation and appointment of Staff into various positions. Most importantly, the changes were done in the spirit of entrenching professionalism and accountability which is a cardinal principle of our 12 Business Focus Areas which are hinged on the slogan moving NNPC Forward…Together," he said.
While calling on staff members to support the ongoing restructuring efforts, the GMD noted that NNPC has made some progress in the implementation of the 12 Business Focus Areas.
"We can now deliver crude to our refineries, we have stabilised fuel supply across the country, Frontier Exploration Services and Integrated Data Services Limited have mobilised to the Benue trough and will soon resume activities in the Chad basin," he said.