Celebrating An Iconic Brand: Bimbo Daramola @ 49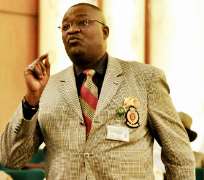 November 9 is one special day when Hon. Bimbo Daramola aka Congressman appears to be everyone's attention. This is a day when friends, political associates, employees, family members, loved ones etc, will leave no stone unturned to make him feel special.
Daramola, one of Nigeria's iconic brand, was born November 9, 1967 in Ado Ekiti to the family of Francis Adebayo Daramola, a former Chairman (Mayor) of Oye Local Government Area when Oye Local Government Area.
He is famous for his penchant for the welfare of his people. This is consequent upon his political belief, which the All Progressives Congress (APC) represents.
On this political platform, Daramola has become a driving force for human capital development and empowerment. He is consistent in advocating for welfare of the people and development.
An apostle of good governance, the House of Reps member has endeared himself to the Ekiti masses. This is so because not only does he preach it, he also acted it since his election in 2011 as a member of the National Assembly to represent Ikole/Oye Federal Constituency.
On November 8, 2014, Hon. Daramola added to his credentials as a public spirited politician when he built a 32-bed hospital worth over N100 million for members of his constituency for improved health care delivery.
It is not the monetary value of the project that speaks volumes, but its conception and the fact that it is the first of its kind by any federal legislator in the history of the 20-year-old Ekiti State.
The hospital is equipped with state-of-the-art equipment. The project was not executed with funds provided by the National Assembly under the constituency projects' funds.
In fact, Daramola had always been on the good side of history as far as the politics of Ekiti State is concerned. He is a man of unblemished records of service and his political antecedents in a generation that lays much emphasis on stomach infrastructure has not been tainted in anyway. Daramola also served as the Director-General of the Kayode Fayemi campaign organisation in a bid to consolidate the gains of democracy for Ekiti people in the June 21, 2014 Governorship election.
Thereafter, he instituted a programme called ''Abo Mi Re'', which means "This is my scorecard" through which he reeled off his empowerment programmes for his constituents and even beyond. This was in a bid to banish poverty.
The project is the flagship of the numerous programmes. The hospital, christened 'Joan Taiwo Daramola Memorial Hospital', and built in memory of his late mother, was located in Ire Ekiti, his country home in Oye Local Government Area of Ekiti State.
The eminent Nigerians at the well-attended inauguration ceremony of the hospital confirms that it was not one of those programmes shoddily conceived under the guise of empowerment to delude the people.
Meanwhile, the politician also initiated a social safety platform to enable Nigerian youths, particularly undergraduates and National Youths Service Corps members to cater to the challenging economic realities in the country through his communications company, the Bridge Concepts Nigeria Limited. The initiative titled the "Nigerian Students and Youth Corps Discount Card" (The Naija Green Card), is a "unique social protection" programme.
A leader with vision inspires people and mobilizes them for nation building. The one with sparkling motives employ wisdom, foresight, sense of purpose and commitment to stimulate the people towards self-actualisation and propel the national spirit in them.
Leading indeed is that enigmatic ability that enables one to turn a vision into a reality. It permeates values, approach and actions.These are the reasons Ekiti youths, who form a good percentage of the electorate can never be wrong; after-all, part of the reasons the youths made up their minds in one accord, concluding that Bimbo Daramola should lead Ekiti State as their Governor come 2018.
Disclaimer:

"The views/contents expressed in this article are the sole responsibility of

Ayodele Bayode

and do not necessarily reflect those of The Nigerian Voice. The Nigerian Voice will not be responsible or liable for any inaccurate or incorrect statements contained in this article."