Elder Orubebe, Trump and other stories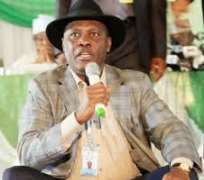 There cannot be a crisis next week. My schedule is already full--Henry A. Kissinger
A Professor was traveling from ACCRA to TAMALE in GHANA. And somewhere between EASTERN REGION and ASHANTI REGION, one of the tyres in the front wheel of his car removed and went into the bush. And because he wasn't speeding due to the poor state of the road, he and the car didn't suffer any injuries or damages but the bolts holding the tyre got lost.
He traced the tyre into the bush and recovered it. For more than an hour the Professor stood beside the car not knowing what to do. Unknowingly to him, a Madman was by the roadside observing him from the beginning of his ordeal. The Madman walked to the Professor and asked, "Did the tyre remove?"
The Prof. was frustrated and began to wonder how this man could ask such a question after watching the whole incident from the word go, lackadaisically the Professor answered just for peace to reign "yes". Again the mad man asked, "and you don't know what to do?" Again the Professor got angry but still composed himself and answered "obviously because if I could, I wouldn't be here stranded for over an hour".
The Madman then said to him "are there not six bolts on the other three tyres?" the Prof. answered "yes". The Madman then said "what if you remove one from there, another from there and another one from there making three, wouldn't it hold it for you?"
The professor was short of words to answer and tears began to roll down his cheeks, he couldn't believe a Mad man's brain and idea could save him a professor from a difficult situation.
Let me start this admonition with a caveat; I am not an expert on American politics or her people, I have not paid keen attention to US elections in expert mode...however I share these few lines with a sense of responsibility. We cannot afford the US having a crisis neither can Nigeria because our schedules are full, and we may yet need counsel from the madman..
So, Trump won, unbelievable! That man that has slapped every woman's butt, the same we agreed did not have the disposition to be president will be President, and while we look at the narratives of Americans being unable trust Hillary enough, or the popular votes versus the electoral college, it is about finding the lost nuts.
Before I forget where is Orubebe, this election was rigged, America's democracy is a fraud jare, how can they say that 270 is bigger than the popular vote, how do people get into that electoral college.
Orubebe where is you, all these talk that the election was about class, the establishment and building that Mexican wall, or is it about throwing Nigerians into the Ocean, and making sure that Muslims don't get into US. The US is an idea and an ideal, and this election has exposed the hyper-polarization of the nation at a crossroad, and as a journey, and where it does go, remains to be seen.
While Orubebe was nowhere when the Federal Executive Council Meeting was advising our own "if Trump, Trump you come back home", I hear that Nigerian Muslims have said that Trump cannot do anything, and I also hear that IPOB, and those militants have congratulated Trump and are willing to work with him; like Trump cares.
So, an entertainer is now American President, and let me remind the US, that there are protests everywhere; a woman in broad daylight pulled her undies, and put her dirt on Trump placard and detest the President Elect. Some others beat us a Trump supporter, and in states it became a riot situation. But I don't get where it is anti-Trump protest in US, and Election Violence elsewhere.
While all the drama continues, Trump has met with Obama, Hillary has called for support for the man, and already he is saddled with the task of picking some 4000 political appointments, and may already have picked his Chief of staff as this article is done with.
However, in my Nigeria we waited six months and got a fairly same difference collection, and I know states that went over a year before picking commissioners.
While Trump is yet to become President, it's interesting to know that he is already in the heat, with criticism at an all time high. No one is being harassed or arrested and truth is that despite the hypocrisy there are loads of positive to learn from the American experience
Trump may not have read any book on foreign policy; he may not write history, he may well rewrite it. But like a Buhari, it all depends on how one looks at the sense of populism that is at display.
Will Trump deliver on his promises, what is on offer, with all the allied-semitism, I see a Nigeria that is also at that place; let me ask, did Northerners want Clinton, and quite interestingly the other divide are happy that Trump clinched. Is Buhari delivering on his promises, is there a hope for greater together. It is immigration and race, and in Nigeria, it is faith and ethnicity.
Every Nigerian commentator has become an expert in American affairs; we have descended on Nobel laureate Wole Soyinka to keep his promise to shred, tear or cut his green card, but like politics and reality, it seems nothing is really real, we are still waiting for the promises of change in this clime, and like once upon an Obama and that promise to shut Gautamo Bay, politicians will always promise heaven and find it difficult to deliver earth. To Trump and Buhari, how they both will be remembered and the role madmen play in their respective efforts—Only time will tell.
Prince Charles Dickson PhD
Freelance Journalist
Research|Policy|Media|Private Investigation
2348033311301, 2348184880370
Alternate Mail: [email protected]
Skype ID: princecharlesdickson