ETUHU FOCUSED ON WORLD CUP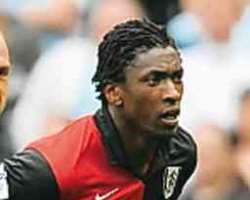 Dickson Etuhu
Super Eagles midfielder Dickson Etuhu has shifted his focus on the World Cup after failing to lift the inaugural Europa League cup.
Etuhu played the entire 120 minutes as Fulham battled Atletico Madrid in the Europa League final on Wednesday but his side failed to convert all their chances as they went down 2-1 at the HSH Nordbank Arena in Hamburg, Germany.
The former Sunderland player admitted after the game that the Spanish club was better in the encounter and regretted not lifting the trophy but added that he would concentrate on the coming World Cup.
'I'm happy we played in the final,' Etuhu said. 'It was my best moment but I would have loved to win the trophy.
'We did our best in the competition. We never thought of getting that far.
'The difference between the two sides was that they had world-class strikers and they took their chances.
'The defeat is behind me now because I want to concentrate on the World Cup.
'There's going to be very little time for rest because the team starts camping soon and I will not want to miss anything.'
Nigeria is in Group B with Argentina, Greece and the Korea Republic. As the Eagles prepare to face the team coached by Diego Maradona on June 12, Etuhu is confident the team will have taken shape before the encounter.
He said, 'Every player in the team deserves to be there and the coach (Lars Lagerback) knows what he is doing.
'I have faith in the team and I trust we'll be ready before the World Cup.
'I cannot say how far Nigeria will go in the tournament but I believe we'll go beyond the second round. We just need to believe in ourselves.
'There is nothing special about our opponents. If we follow the coach's plans, we shouldn't have any problem.'