Why Buhari, Osinbajo, Tunibu were absent from Ondo APC rally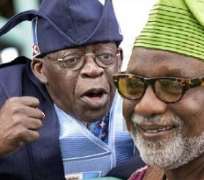 President Muhammadu Buhari and Vice president Yemi Osinbajo, on Thursday, November 10, were conspicuous absentees  in the flag off of the 2016 governorship campaign of the All Progressives Congress  in Ondo state.
Just as predicted, the National leader of the party Asiwaju Bola Tinubu did not turn up in the event.
Premium Times, reports that the result of its investigation showed that Buhari never had the event in his schedule, despite earlier reports that he was going to be present. The event, which effectively kicked off at about 11 am, was however attended by some APC governors, federal ministers, and other top government officials.
According to reports,  officials of the campaign kept informing the crowd, who thronged the Democracy Park in Akure, that Buhari and Osinbajo were on their way; but as time went on, it was soon clear that they would not be coming.
Speaking to newsmen after the event, Abayomi Adesanya, the publicity secretary of the party in Ondo state, said President Buhari and Vice president Osinbajo encountered an emergency situation that they needed to attend to on Thursday, which led to their absence at the rally. He said: "The President and the Vice President had an emergency state matter they had to attend to and so could not turn up."
However, Adesanya said President Buhari would be in Ondo state for the grand finale of the campaign, scheduled tentatively for November 19. Other notable absentees at the event were Asiwaju Bola Tinubu, national leader of the APC, Senate President Olubukola Saraki and Speaker of the House of Representatives, Yakubu Dogara, Governor Akinwunmi Ambode of Lagos state and Governor Rauf Aregbesola of Osun state.
Governor Ibikunle Amosun of Ogun state was the only South-West APC governor present at the event. Senator Ajayi Boroffice and Dr Olusegun Abraham, who is contesting the outcome of the governorship primaries with Akeredolu, also shunned the event. It was gathered that the absence of key chieftains of the party may be connected with the crisis trailing the emergence of Akeredolu as the candidate of the party.
The crisis, which has divided the party from the national level to the state chapter, started after Asiwaju Tinubu asked Odigie-Oyegun to resign for undemocratically "imposing" Akeredolu over other 24 aspirants. Tinubu had preferred Dr Olusegun Abraham to emerge as the candidate but he came second. Abraham has dragged Akeredolu before a Federal High Court in Abuja. Some of the aggrieved governorship aspirants have refused to support Akeredolu following the manner the NEC of the party allegedly "imposed" him despite the order for fresh primaries by the appeal panel on the ground that delegate list was padded.