APPEAL COURT: EKITI AC CONFIDENT OF VICTORY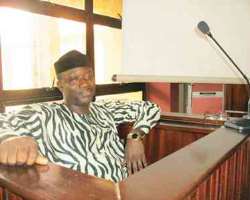 Action Congress governorship candidate in Ekiti State, Dr. Kayode Fayemi, at the Justice Hamma Barka-led Election Petitions Tribunal hearing his petition against Governor Segun Oni of the Peoples Democratic Party in Ado-Ekiti… on Tuesday
The 13 Action Congress lawmakers at the Ekiti State House of Assembly have expressed the confidence that the party's governorship candidate, Dr. Kayode Fayemi, will be declared winner at the Court of Appeal.
The lawmakers, led by the AC leader at the House, Mr. Funminiyi Afuye, said this at a press conference at Fayemi's Campaign Office on Wednesday.
The Deputy Speaker of the House, Mr. Saliu Adeoti, Mr. Edward Ashaolu representing Ilawe and other lawmakers were also present at the briefing.
Afuye, who represents IKere Constituency I, said that the minority judgement delivered by Justice Abiodun Adebara and Justice Obande Ogbuniya had further given the party the ray of hope that justice would be done in the appeal by the appellate tribunal.
He said, ' I believe that the panel to be constituted at the Court of Appeal will do justice to the appeal of our party flagbearer, Dr Kayode Fayemi. We believe that they will deliver God's judgment.
' I am very confident of this because when the first tribunal led by Justice Bwala delivered its judgment in favour of Oni we appealed and the Court of Appeal in Ilorin ordered a rerun. Then, it was the five judged who delivered a unanimous verdict to dismiss Fayemi's petition.
'Now that two judges held that our flagbearer is the winner of the governorship election, we believe that the Court of Appeal will look at all the grey areas in the majority judgment and do justice to the appeal.'
Afuye also denied the speculations that some AC lawmakers were planning to defect to the ruling Peoples Democratic Party following the nullification of Fayemi's petition by the majority verdict.
He said that such speculations were not true as the 13 AC lawmakers remained committed to the struggle to liberate Ekiti State from the misrule of the PDP government.
According to him, ' It should be expected that after pyrrhic victory, the next thing to do will be to cause crisis but let them come out in the open and mention the names of those who are planning to decamp to the PDP. AC lawmakers remain solidly behind Dr Kayode Fayemi and nothing will shake us.'
The lawmakers saluted the courage and determination of the AC governorship candidate to get justice by any lawful means. They said that Fayemi had displayed that he was a committed democrat and a selfless leader worthy of emulation.