THIS SCRABBLE GAME OF MINE!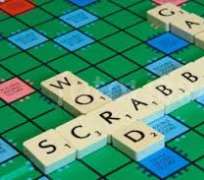 You feel you love the spelling game of Scrabble so you download this app on the game.
You very easily defeat the computer in your solo runs in this game...so rapidly...so severally....and so much through the grades:
Extremely easy. Very easy. Easy. Normal. Hard. Very hard. So, you migrate to Extremely hard. Seamlessly...or so you assumed.
Then the defeats start rolling in. You lose the first game. Then the second. The third. And the fourth!
You stubbornly proceed on to the fifth game...and bravo! You manage to win. Then you win another. But the table soon turns again...and you could only manage a 1:3 victory ratio...at best!
And this trend was sustained for several subsequent games...save for an instance when you hope was momentarily raised after three victories in a row!
You had suffered early defeats when you were more defensive than offensive. You endured even greater pain when your reckless offensive forays left your rear uncovered.
You feel the computer...though a computer...couldn't possibly have been so "lucky" as to achieve premiums upon premiums...all on the red square...
An unbelievably high base score tripled by the red square to so foul your day.. coupled with a bonus of 50!
Then, you are served with seven unbelievable tiles. Three Ms. Three Ns. And a single E!
You make an attempt to reach into the Swap Bag but you are briskly rebuffed! The end of the game is high.
The game is tight.. As both players have somehow managed to restrict the area covered to half of the board...three to four red squares yet to fill up!
But you stubbornly persist with this game...refusing to throw in the towel...even though you are now trailing your machine opponent by nearly a hundred points!
You manage to slot in the tiles... One. Mostly two per turn... Even after the machine has exhausted its tiles and passes its turn.
And then there is no more tile to slot in.
You get up assuming that you have lost again...almost accusing the machine's software programmers of "ojoro".
Your eyes somehow stray to the scoreline...then you wonder. How can you possibly be in the lead with nearly a hundred points!
Then you realise the power of perseverance...
Dr Tosin Akindele is a medical practitioner and public affairs analyst.