Young Democratic Party Was Born Out Of The Conviction And Struggle Of A New Class Of Passionate Young Patriotic Nigerians—Hon. Nwabueze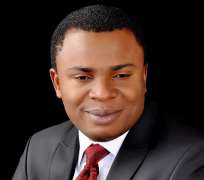 The National Leader/Chairman, Founding Members Council of the Young Democratic Party (YDP) said that the Party was registered as a political party on the 2nd of May, 2014 in Nigeria.
He said that registration process began on the 5th of December, 2013 and completed the submission of its application on 1st of April, 2014.
"By 2nd of May, 2014 the party was deemed registered by the operation of the law. it was not the judgment of the Federal High Court neither the Court of Appeal that made us a political party, but the Electoral Act, particularly Section 78(4); the Federal High Court and Court of Appeal just affirmed what we were telling INEC (of which they refused and then we proceeded to court) that we are a political party by the operation of the law (Section 78.4) of the Electoral Act, so when people who don't understand the history of YDP are talking, don't listen to them, Nwabueze said.
On what motivated him to form the Young Democratic Party, he said that Party was born out of the conviction and struggle of a new class of passionate young patriotic Nigerians like him, who believe in the possibility of a new Nigeria and the establishment of the Nigeria of our dreams.
"I don't think anybody can take our logo out from us, not even INEC, people should not panic; the proofs are there. I see no reason why INEC should not re-issue the certificate of YDP on 2nd May 2014 as affirmed by Federal High Court, Nwabueze said
On why were some of the Party NEC members sanctioned, he the decision of the Board of Trustees by suspending 34 members of the NEC who were involved in anti-party activities is in line with the party constitution.
"Anyone who feels contrary about what the Board of Trustees did and ratified by Founding Members Council should proceed to the court and not INEC because INEC is not a Charity organization or a group of Philanthropist. They should not be deceived that their names are still on INEC's website. By the way, Adamu Muazu (former PDP Chairman) and some NEC members' names were in INEC's website for over a year but they were not in charge.
"APGA suspended their Chairman and some NEC members whose names are still on INEC's website. INEC don't run political parties. Political parties are run by their constitution. Also INEC do not prepare constitution for political parties. Political parties prepare their constitution and submit to INEC.
"Can Corporate Affairs Commission dictate how you run your company? Secondly if INEC had the power, they would have removed Jimoh Ibrahim's name from the list of governorship candidates in Ondo State. This shows that INEC don't have the power to make decisions for political parties according to the electoral act, Nwabueze said.
He said the aggrieved suspended NEC members have refused to go to Court rather they are trying to amend the constitution of which they do not have the powers according to the Party constitution.
"Even if they were still in office, they do not have the powers talk more of now they are suspended and removed from their various offices in the party and shall not participate in any of the Convention of the party and other related activities of the party until a letter of apology is sent individually to the party through the Board of Trustees and also they are to retract those statement made by them at Edo State and outside Edo State; that was recommendation of the Disciplinary Committee on them.
"This shows they are foolish and know nothing about political parties and politics. 'Vision Is Heavenly And Cannot Be Hijacked'. For Further enquiries please visit www.ydp.ng to download our constitution and lots more about YDP, Nwabueze said.