Outgoing acting MD, NNDC has politicised the commission: PDP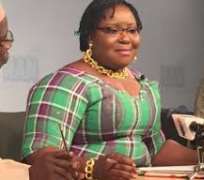 The chairman of the Rivers State chapter of the Peoples Democratic Party, PDP, Bro Felix Obuah is happy that the misfortune of having Ibim Semenitari as the acting Managing Director of the Niger Delta Development Commission, NDDC is over.
Bro Obuah made the observation through a statement signed by his Special Adviser on Media and Publicity, Jerry Needam in reaction to the formal hand-over to the new NDDC Management, Monday, 7, 2016.
According to the State PDP chairman, the management of the Niger Delta Development Commission under the former Gov. Rotimi Amaechi's Information Commissioner, Ibim Semenitari was the worst ever and brought nothing to the people of Rivers State.
Bro Obuah regretted that rather than improve on the legacies of the previous managing directors of the Commission, Mrs Semenitari made politics the fulcrum of her administration and ran the affairs of the Commission as an arm of the All Progressives Congress, APC.
Bereft of the requisite managerial skills and ignorant of the vision of the Commission, Mrs Semenitari thought the best she could do was to politicize the place and has unfortunately left the Commission worse than she met it, Bro Obuah noted, stressing that there is nothing practically to show in the State that a Rivers indigene was there as managing director for the period she held sway at the Commission.
The State PDP boss therefore wants the new management of NDDC to tread with caution, scrutinize the hand-over notes of Mrs. Semenitari and chart a new course for the Commission with a view to pursuing the mandate and delivering the services for which the Commission was established.
"We make no doubt that the end of Mrs. Semenitari's leadership of the great Commission marks the beginning of the pursuit of the vision and mission for which the Commission was founded which was distorted by Ibim Semenitari and substituted for APC vindictive agenda.
We thank God that era is gone and pray the Commission will from now on, begin to be run and managed as a public institution charged with intervention development programmes and not an extension of APC," Bro Obuah declared.