CORRUPTION: PDP CHAIRMAN, OGBULAFOR RESIGNS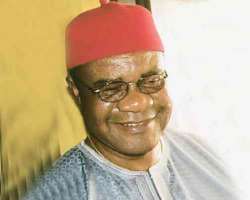 National Chairman of the Peoples Democratic Party, Chief Vincent Ogbulafor
After about one month of trying to swim against the tide, the National Chairman of the Peoples Democratic Party, Chief Vincent Ogbulafor, on Thursday resigned his position.
Ogbulafor's resignation came in the wake of mounting pressure from the Presidency and the PDP governors over the N104m corruption charges brought against him by the Independent Corrupt Practices and other Related Offences Commission.
A top member of the PDP National Working Committee and a minister confirmed this in separate enquiries at about 8.35pm.
The PDP governors had on Wednesday made spirited efforts to save Ogbulafor's job when they met with President Goodluck Jonathan, pleading that he be allowed to complete his tenure.
But Jonathan vowed that he was not going back on his commitment to strengthening the anti-corruption battle; and advised them to allow the court to prove Ogbulafor's innocence or otherwise.
It was learnt that when the governors failed to persuade Jonathan to do their bidding, they consequently gave Ogbulafor up till 11am on Thursday to resign.
However, the governors had supported him until Tuesday, when three of their members from the South-East met with Jonathan and later told Ogbulafor to resign.
The governors had stressed the moral burden of his continued stay in office with the trial.
The governors were, Chief Martins Elechi (Ebonyi State), Mr. Sullivan Chime (Enugu State) and Mr. Ikedi Ohakim of Imo State.
Confirming his resignation, a minister (name withheld) said, 'He has resigned, he has presented his letter to the Villa. I think he will submit his letter officially to the party tomorrow.'
Also, an NWC member said, 'The party chairman has resigned; we are expecting him to brief us on Friday (today), that is when we will be able to make official comments on the issue.'
It was gathered that the embattled chairman had followed PDP governors to see President Goodluck Jonathan in the presidential villa on Wednesday night.
Before his resignation, Ogbulafor had talked tough, and insisted that he would not resign as no court had pronounced him guilty.
Even at the last National Executive Committee meeting of the PDP, Ogbulafor said that his silence should not be taken as a weakness.
By party's constitution, Ogbulafor is expected to hand over to Dr. Haliu Bello.
But the PDP chair is zoned to the South-East geo-political zone, which means that Bello is only going to hold brief for a new chairman, likely to be elected from the same zone.
According to the ICPC charges, the offence that Ogbulafor and three others committed happened in 2001.
He was then a minister for special duties under President Olusegun Obasanjo.
But, he maintains that he is innocent of the allegation.
Ogbulafor resigned midway into his tenure as PDP Chairman.
However, when contacted, the National Secretary of the party, Alhaji Kawu Baraje, neither confirmed nor denied the Ogbulafor resignation rumour.
Baraje said, 'I cannot confirm that to you now, but maybe in the next few hours I will be able to confirm yes or no.
'It is no longer news that three governors from the South-East states asked him to resign as a result of the case in court, and you know the process of electing our chairman and various members of the party executive – they come from the zones before they are now elected through national convention.
'So, he has to go on consultation with his zone and, presently, he is doing a lot of consultation around his zone and the outcome of the consultation is what will tell us whether he is going to resign or not.'
Asked who would take over from Ogbulafor if he resigned, Baraje said he would have to hand over to his deputy (Bello), pending when a new chairman would be elected from his zone.
Also speaking on the issue, the party's National Legal Adviser, Chief Olusola Oke, said that the South-East would still produce the chairman of the party if Ogbulafor resigned.
He also said that though the party's constitution stipulated a one-month notice before the resignation could take effect, that might not be necessary the organisation was not a business firm.
Meanwhile, the PDP governors have reportedly commenced an intensive search for Ogbulafor's replacement.
Among those being considered are Dr. Okweliseze Nwodo from Enugu State and Ambassador Thomas Aguiyi-Ironsi, who hails from Abia State.