Obasanjo Lacked Educational Impetus--Hon. Farouk Lawan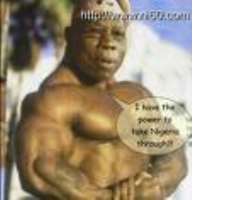 By Deji Wale Fadeyi, Abuja
Former President Olusegun Obasanjo yesterday came under severe criticism over the way and manner his administration handled education in the country as the Chairman, House of Representatives Committee on Education, Hon.Farouk Lawal took a swipe on his administrative incompetence and described him as lacking the educational impetus to rule the country while his tenure lasted.
Speaking at a forum for Commonwealth of Learning on distance learning organized by the National Open University of Nigeria (NOUN) in Abuja Hon Farouk said education, under the Obasanjo administration suffered series of setbacks owing to uncoordinated approach with which he handled the system.
"I wish and hope that former President Olusegun Obasanjo had the opportunity to attend the Open and Distance Learning Programme before his presidency and not after his presidency perhaps he would have been a better president.
"This programme has great potentials for our society and all of us must play our role in ensuring that it succeeds," he said.
He however maintained that the National Open Distance Learning programme initiated by the Federal Government through NOUN could open access to education, especially the imbalance experienced in the system.

The House Committee Chairman said the conference should delve into the challenges confronting distance learning education in Nigeria as well as within the commonwealth nations adding that the programme holds the key to addressing issues of imbalance in the sector.
In his address President Umaru Musa Yar'Adua said that Nigeria's failed attempt to establish a National Open University 26 years ago underscores its present commitment to the growth and development of the organization in the pursuit of the objectives for which it was established.
"As signatory in the education for all and one of the E-9 countries with exceptional need to attain the Millennium Development Goals (MDGs), Nigeria is committed to facilitating critical human capital development with education as the major driver".
The President who was represented at the forum by the Minister of Education, Dr. Sam Egwu however said attempts at ensuring coordination of its distance learning objectives would see it setting up a national agency to introduce efficiency in the system.

According to the Vice Chancellor of the institution in Nigeria, Olugbemi Jegede, he said the establishment of the NOUN and its outreach centres in the country underscores Federal Government's yearnings to address issues of access as encapsulated in the current four point agenda of the education ministry.
The Commonwealth of Learning (COL) programme came into existence in 1989 with Countries like India, New Zealand, Botswana, Ghana, South Africa, Tanzania, Barbardos and Nigeria already keying into the programme.
|
Article source