TB Joshua predicts win for Hilary Clinton in US election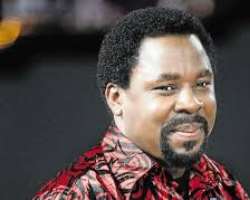 The General Overseer of of the Synagogue Church of All Nations, Prophet Temitope Joshua, has called the United States presidential election coming up on Tuesday for Hilary Clinton.
The televangelist  has correctly predicted many events around the globe said in an unequivocal terms that  the next President of the United States will be a woman.
Joshua said this on his official Facebook page on Sunday.
Hillary Clinton of the Democratic Party, who is the first run to be nominated presidential candidate of a major party in the United States, is in a crunch race with her  Republican rival  Donald Trump.
The other female presidential candidate is Jill Stein of the Green Party but is not believed to be a threat.
Joshua however predicted a rough and tumble time for  the next US President..
Joshua said, "Ten days ago, I saw the new President of America with a narrow win. The new President will be facing several challenges over many issues, including: passing bills, attempts to possibly pass a vote of no confidence on the new President. The boat of the new President will be rocked.
"By the way, in order not to keep you in suspense, what I frankly saw is a woman."