APC Chieftain Reacts- "Tinubu withdraws financial support for the the party"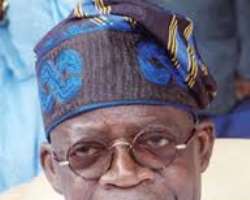 Following a report published by a popular news site, Naij, that the National Leader of the All Progressives Congress, Bola Ahmed Tinubu had withdrawn his financial support for the party, a Chieftain of the party and member of the National Working Committee has reacted saying the former Lagos State Governor had at no time made financial commitment to the party.
The report published with the title – "Exclusive: Tinubu withdraws financial support for the APC" has enraged many members of the Party's National Working Committee (NWC).
A member on the National Working Committee (NWC) who attended a meeting of the Committee held at the Party's National Secretariat on Wednesday disclosed that the report was false and misleading.
The NWC member who pleaded to remain anonymous due to the sensitivity of the matter stated; "My best guess is that the report was sponsored. Why did the writer not bother to cross check his story with the Party. The writer rather, conveniently relied on an unnamed "party chieftain" as the source of the false and misleading report. The story is laced with high fiction and is clearly a figment of the writer's wild imagination."
He said: "I can tell you authoritatively that the Party's National Secretariat has not officially received any financial contribution from Asiwaju Bola Ahmed Tinubu since its inauguration; hence the report of Asiwaju Tinubu withdrawing financial support for the Party does not arise.
"Asiwaju probably individually gives financial contributions to his candidates contesting elections, but definitely not the Party's national leadership."
Recall that Governors elected under the platform of the All Progressives Congress (APC) on Wednesday threw their weights behind the National Chairman of the party, Chief John Odigie-Oyegun insisting that no one has the absolute power to 'bully' him and other NWC members out of office.