NIGERIA PRESIDENT 'CHOOSES NAMADI SAMBO AS DEPUTY'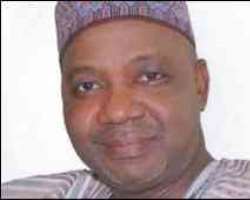 Namadi Sambo worked as an architect until he became a governor in 2007
Nigerian President Goodluck Jonathan has named Kaduna state governor Namadi Sambo as his new vice-president, an official has told the BBC.
Mr Sambo, 57, must now be approved by both houses of parliament.
The move follows the death of President Umaru Yar'Adua and the swearing-in of his successor Mr Jonathan last week.
Whoever is named as vice-president is seen as a strong contender for the 2011 presidential elections in Africa's most populous nation, analysts say.
It remains unclear whether Mr Jonathan will seek to contest the elections on behalf of the governing People's Democratic Party (PDP). NAMADI SAMBO
Born: 1952
Married with six children
Elected Kaduna governor in 2007
Qualified architect
No personal power base
Ally of former military ruler Ibrahim Babangida
'Sham' democracy exposed
Babangida 'will not buy top job'
Mr Jonathan is a southerner and the PDP has said its candidate will be a northerner – continuing its practice of alternating power between north and south.
Mr Sambo is from the north but there have been strong suggestions that Mr Jonathan may try to overturn the PDP tradition.
Kaduna state spokesman Saidu Adamu told the BBC's Network Africa programme that reports in local newspapers that Mr Sambo had been chosen were correct.
However, the president's office has not yet officially confirmed these reports.
The BBC's Caroline Duffield in Lagos says Mr Sambo is not a prominent politician, does not have a big power base and his name did not figure in public speculation about likely vice-presidents.
But she says he is likely to be confirmed by the Senate, which is expected to meet later on Thursday.
Married with six children, he is a qualified architect who became governor in 2007.
He is an ally of former military ruler Ibrahim Babangida, who recently said he would seek to contest the elections, our correspondent says.
She says he has taken security very seriously since becoming Kaduna governor.
Some analysts say he may have been chosen because he would not pose a threat to President Jonathan.