PDP crisis in Ondo: Alex Iziyon withdraws as Jimoh Ibrahim's lawyer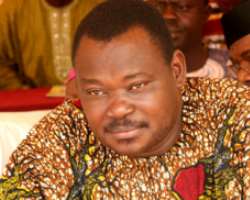 Lawyer to Peoples Democratic Party,PDP, candidate in Ondo State, Jimoh Ibrahim at the Federal High Court, Alex Iziyon, SAN, has withdrawn his representation at the Court of Appeal, citing  professional ethics and integrity.
Iziyon,  in a personally signed letter to his client dated November 2, 2016, said  his withdrawal was informed by his alleged indictment by the Presiding Judge that he had foreknowledge of Prince Poroye's petition despite his protest and innocence.
Alex Isiyon
According to him,  "For professional ethics and my integrity I cannot continue on this as I was not told or given a copy of the said petition.
"It is in this regard that I hereby withdraw from further appearance. This is to enable you brief another lawyer who shall take over the file. We will forward the file and the processes to your personal assistant