EVALUATING AFRICA AFTER OBAMA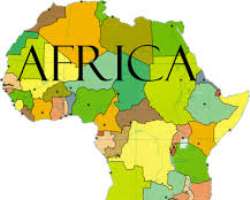 Less than a week from today, Americans will make a choice of who would succeed President Barrack Obama next January after the first ever Black American president would have served his two terms of four years each in the oval office in the West wing of the White House.
The Americans have Mr. Donald Trump of the Republican Party and Mrs. Hilary Clinton of the Democratic Party to pick as the successor in office to President Obama.
That is assuming without conceding that the latest Federal Bureau of Investigation's decision to reopen the Hilary Clinton's private email's scam would not result in the replacement of Hilary Clinton as the official candidate of the Democratic Party.
Obama has an African heritage by virtue of his paternal affiliation to Kenya but his eight years stint in the United States' Presidency is not known to have made much of any positive impacts to Africans living in Africa.
Even in the United States of America more black Americans have died from Police shooting incidents during Obama's eight years tenured administration than even the last three administrations put together.
The British Guardian recorded a final tally of 1,134 deaths this year alone of blacks in the hands of US law enforcement.
President Obama rarely visited much of African countries during his years in office except the few times he visited Egypt, Kenya, South Africa and a sprinkling of other African nations but he avoided Nigeria like a plague even when Nigeria harbors the largest black population globally.
President Obama would be remembered for his negative intervention in Libya which resulted in the killing of the Libyan long time President Colonel Muammar Gaddafi in a Civil war in which the west instigated some rebellious elements of Libyan origin to mastermind a fratricidal conflagration resulting in the destruction of the once thriving Libya.
For four decades almost that the then Libyan strongman Presided over the affairs of Libya, he built it from what it was as a mere collection of heavily pauperized and impoverished deserts that laid waste into one of the most prosperous nations with the best of infrastructures.
The civil war which resulted in the murder of the Libyan President has also opened the flood gate of terrorists of the Islamic State into parts of Libya.
Libya in post -Gaddafi era has also become so lawless that thousands of refugees who seek irregular migration into Europe travel through Libya via the Mediterranean High Seas to transit in rickety and dangerously deadly boats controlled by human traffickers into Europe through Malta and Italy, with hundreds of Africans dying on the high seas.
The European Union office recently said nearly 23,000 West Africans took that irregular but deadly route of Libya via the Mediterranean Sea to attempt crossing over to the Western/central Europe.
This sad scenario of irregular migration heightened during the last eight years of President Barack Obama led administration.
A historical account of the African policy executed by President Obama is already tainted and tarnished incredibly by his administration's undertaker's role in destroying the once peaceful and prosperous Libya.
In an article published by Western researchers, Gaddafi was credited with achieving a lot in all the diverse and strategic fields of human endeavors.
His administration considered right to housing as a human right that is inalienable and he made right to qualitative healthcare as a major priority of government and indeed totally free.
During his rule in Libya before much of it were destroyed, he undertook the World's largest irrigation project, paid bursary to mothers, made electricity free and premium motor spirit or fuel was heavily subsidized.
Before the fall of Tripoli and his untimely demise, Gaddafi was trying to introduce a single African currency linked to gold.
"Following in the footsteps of the late great pioneer Marcus Garvey who first coined the term"United States of Africa".
Gaddafi wanted to introduce and only trade in the African gold Dinar – a move which would have thrown the world's economy controlled largely by the West into chaos."
"The Dinar was widely opposed by the 'elite' of today's society and who could blame them. African nations would have finally had the power to bring itself out of debt and poverty and only trade in this precious commodity. They would have been able to finally say 'no' to external exploitation and charge whatever they felt suitable for precious resources. It has been said that the gold Dinar was the real reason for the NATO led rebellion, in a bid to oust the outspoken leader" (see www.globalresearch.ca ).
President Obama to a large extent contributed to the devastations of much of Northern Nigeria by Boko Haram terror network by refusing to sell arms to the immediate past administration of President Goodluck Jonathan because he was plotting to install a Northern Nigerian as President.
To answer the specific question of the place of Africa in the post-Barack Obama era would require a quick analysis of the campaign blueprints of both candidates aforementioned.
Both Mrs. Hilary Clinton and Mr. Donald Trump are not known to have stated so much in greater details what Africans living on the African continent stand to gain politically and economically if any of them is elected and assumes the mantle of leadership as the World's strongest leader by January 2017.
For nearly one year of vigorous campaigns, both candidates have often focused on purely local American issues including United Stated trade deals with developed nation's but have only mentioned Africa when speaking about what each of them have in stock for waging war on terror.
Africa is known to harbor lots of terrorists and Islamists even as the Sudanese leader has already been declared wanted for war crime by the International Criminal Court in The Hague, Netherlands, even as the United States is still not a signatory to the ICC Statue.
The USA after Barack Obama may still not sign on to the ICC Rome treaty and this to a large extent would spark off a widespread continental withdrawal from the ICC by African political leaders most of whom are corrupt and tyrannical and are afraid of the prospects of their prosecution before that global crimes court.
South African President Jacob Zuma a notoriously corrupt politician and the dictator of Gambia the tiny West African nation have both asked to be excused from the ICC Treaty obligations. So what is at stake for Africa from January 2017?
Analysts say that Donald Trump's proposal to limit the number of Muslims allowed into the United States of America will in no small measure dramatically close up opportunities for a lot of African's wishing to travel to the United States of America because a good percentage of Africans are Muslims.
The number of Africans who visited the United States of America for instance in the year 2013 was put at 1.4 million by Pew Research Centre.
"While Trump's proposals are likely to be challenged on legal, financial and practical grounds, his administration would, at the very least, be hostile to immigration and roll back the Obama administration's effort to give a reprieve to illegal immigrants with children born in the US who have no criminal record. Clinton would probably continue with the Obama reprieve", ( www.nation.co.ke ).
Speaking to the critical issue of how African economy will fare during the post-Obama era analysts wrote thus: "the one thing Trump has been consistent about is his opposition to free trade agreements. He has promised to check Chinese dominance in manufacturing and accuses Beijing of devaluing the Yuan".
"Trump would probably take an axe to the proposed Transatlantic Trade and Investment Partnership with Europe as he rolls back parts of the Trans-Pacific Partnership with Asia, so says researchers".
"Neither Trump nor Clinton are, however, likely to touch the African Growth and Opportunity Act, which gives goods from Sub-Saharan countries tariff-free access to US markets."
"Set up by Congress in 2000 and renewed until 2025, Agoa is beyond presidential remit and is too small, in any case, to target."
But experts are afraid that Trump could be tempted to scrape President Obama's Power Africa initiative but the $7 billion plan has little US Government money and facilitates.
So head or tail, Africa would not gain much from a post Barack Obama epoch. But institutional building and the promotion of democracy may not completely be neglected by any of the duo who emerges because the danger is more and the threat is huge should USA from 2017 view Africa as a continent that they would not deal with.
The danger is that China and Russia will then step up their efforts to win the hearts and minds of Africans. China has gained significant in route into Zimbabwe and Sudan. Muhammadu Buhari who was aided to win last year's election by the American Barack Obama government has of recent romanced the Chinese government seeking for soft loans and is busy mortgaging so much of Nigeria's resources to China. Any further distancing of the USA after Barack Obama from Nigeria could result in the deepening of the Sino-Nigeria bilateral ties to the detriment of US interests in Nigeria.
Nigeria which arguably is the largest black nation globally has a robust legal framework in the section 19 of the Constitution on the foreign policy objectives as follows: "The foreign policy objectives shall be - (a) promotion and protection of the national interest; (b) promotion of African integration and support for African unity; (c) promotion of international co-operation for the consolidation of universal peace and mutual respect among all nations and elimination of discrimination in all its manifestations; (d) respect for international law and treaty obligations as well as the seeking of settlement of international disputes by negotiation, mediation, conciliation, arbitration and adjudication; and (e) promotion of a just world economic order."
*Emmanuel Onwubiko is the National Coordinator of Human Rights Writers Association of Nigeria and blogs @ www.emmanuelonwubiko.com