Why Jonathan has not been arrested on corruption charges: Osinbajo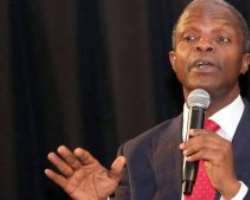 Vice President Yemi Osinbajo on Saturday said that it is incumbent on the anti-graft agencies in the country to determine who have questions to answer.
According to him,  the Muhammadu Buhari-led administration will not tele-guide the Economic and Financial Commission, EFCC, to arrest former president Goodluck Jonathan over allegation of corruption during his reign.
Osinbajo, who spoke in Houston, Texas, while interacting with Nigerians living in the United States, was responding to questions from across the state, via .
Asked when former President Goodluck Jonathan would be arrested for alleged corruption during his administration, Osinbajo said Buhari's administration was not in the business of arresting just anyone, anyhow.
The vice president said all that the president administration "does is to empower the security agencies and the anti-corruption agencies to do their jobs without the administration trying to teleguide them."
Osinbajo, who stressed that the ongoing anti-graft war was on ethnic, hasty and premeditated grounds, said: "Corruption is not an ethnic thing, there is an equal representation in the stealing as no one operates with his/her ethnic group alone, the culprits are in every case seen so far, united by greed to steal and not by ethnic or religious interest."
He decried a situation where as much as $15 billion arms purchase fund disappeared from the national coffers into private pockets, saying no responsible government would "wave that aside so as not to offend people."
On the recent arrest of some judges, the vice president explained that impunity could be very dangerous in any sector and that "the Federal government is only exercising its executive function in attempting to check excesses."
He added that the important thing was that due process was being followed as the judges were released about 24 hours after their arrest and after they had given their statements.
The vice president attributed the current economic recession in Nigeria to the loss of about 60 percent of government's revenue due to pipeline vandalism and "endemic corruption" in the system.
He maintained that getting back oil production "is a sure way to get out of the recession and the federal government is working to sort it out."