Nigeria spends $10m dollars daily on wheat - El Rufai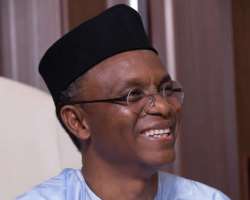 Kaduna State Governor Nasiru El-Rufai says Nigeria spends ten million dollars daily on wheat while 90 percent of wheat consumed in the country is imported.
El-Rufai stated this during the flag off of a 3-day training for 6,000 youths on wheat production held in Kaduna with the aim of reversing the trend.
Speaking during the training organized by Lake Chad Research Institute in collaboration with Kaduna State government, El-Rufai said the training will on the other hand, ensure youth employment.
El-Rufai, while calling on the youths to embrace agriculture said his administration will provide the trainees with seedlings, pesticides, fertilizers and land, adding that the State had the capacity to excel in Agriculture.
El-Rufai said: " We must go back to agriculture for us to feed ourselves and also feed the nation. Our youths must embrace Agriculture. Any obstacles they are likely to face will be removed to achieve greatness in Agriculture."
He stressed the need for women's inclusion into the Agricultural training on wheat farming and production.
"That is why we launched this programme to get our youths, attracted to Agriculture. Our efforts is to ensure youth employment," Gov. El-Rufai said.
On his part, Executive Director Lake Chad Research Institute, Dr. Oluwasina Gbenga Olabanji, said the most critical challenge for Nigeria today is the encouragement of domestic production, advising that, everyone has to contribute in order to fast track achieving self-sufficiency through domestic production.
Olabanji said: "After thorough research, dry season experiments for wheat farming yielded 100% success rate while raining season experiment yielded only 25% success rate.Nigeria is the least African country in wheat sufficiency producing only 2.2% of National demand which stands at 4 million metric tonnes per annum.
A report says Nigeria spends about 4.7 billion USD annually importing wheat but the establishment of the wheat value chain by the ministry of Agriculture has reduced this by about 20-30%."