BOND PRICES RISE ON NEW GOVERNMENT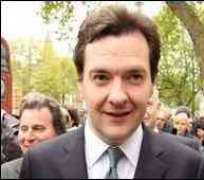 The new chancellor will deliver an emergency budget within 50 days
UK government bond prices have risen after investors gave a cautious welcome to the new government.
The rise showed some confidence in the ability of the coalition to make in-roads into the public-sector deficit, BBC business editor Robert Peston said.
In early trading, the pound lost some ground against the dollar and UK share prices fell slightly.
Meanwhile, business groups said tackling public finances should be at the top of the new government's agenda.
The new government has said that there will be a "significant acceleration" of efforts to reduce the budget deficit – including £6bn of spending reductions this year.
Chancellor George Osborne will hold an emergency budget within 50 days.
Our business editor said that the gap between the yield on equivalent German and UK government bonds had narrowed, "which shows that investors believe the risk of lending to the British government has reduced".
'Get a grip'
Business group the CBI said restoring government finances should be the "overriding priority" in the next few months.
Continue reading the main story
Some in the City may well see the Tory-Lib Dem coalition as something of what they would call a reverse takeover by the Lib Dems.
Robert Peston
BBC business editor
Read Robert's blog in full
CBI director general Richard Lambert said news of the coalition agreement between the Conservatives and Liberal Democrats was "welcome news".
"Business wants to see a stable government with the authority to take the tough decisions that will be required to keep the economic recovery on track and to get a grip on the fiscal deficit," he said.
"This coalition should have the votes and the mandate to get on with the job.
"In the past few days, leaders of all three of the main political parties have emphasised their commitment to restoring fiscal stability in the national interest. That must be their overriding priority in the months to come."
The British Chambers of Commerce joined the CBI in calling for the deficit to be top priority.
"The BCC wants to see the delivery of a clear and achievable plan for business over the first 90 days of a new administration – a plan that puts business growth at the centre stage," said David Frost, director general of the British Chambers of Commerce.
"Fixing the public finances must be at the top of the agenda. The Conservative-led coalition must be absolutely clear about where spending cuts will fall, and about the need to curb relentless growth in the size and cost of the public sector."