President Buhari Must Hear This!!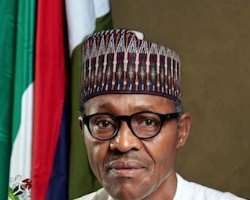 Muhammadu Buhari GCFR
President,
Federal Republic of Nigeria
Aso Rock Villa, Abuja.
Your Excellency,
A case of systemic annihilation of Edo elements in the board and staff personnel of the Benin Owena River Basin Authority (BORDA) - being an open letter by the Benin National Congress, 21st October 2016.
We respectfully wish to place on record that save for our esteemed regards for the Coronation tradition of the Oba of Benin, a grand procession involving Edo youths and women alongside mock casket and coffins would have been staged today to express our resentments against the pyramid of corruption, crass chauvinism, alarming violation of the Civil Service rules, unbridled disregard for federal character etc by the current Managing Director (Rev. Ebenezer Olabode Mafayeyomi) in collaboration with some centrifugal forces in the Federal Ministry of Water Resources.
Ours is a sociocultural organization with avowed resolves for the promotion, protection and defense of Edo ethnic nationality's cherished values. We have a legacy of standings up against stereotypical tendencies against sons and daughters in positions of authority, and currently, if Mr. President doesn't empanel an investigation into the underlisted grand-allegations, we fear that 'sacred cows' would be visible in Mr. President's administration; and it will cast doubt in Mr. President's popular campaign against corruption and indiscipline.
1. Corrupt perpetuation in office after due retirement date of August 2016, and after 35 years of service. If Mr. President is fighting corruption, IS REV. EBENEZER OLABODE MAFAYEYOMI A SACRED COW??????? Nigerians deserve an answer vide your treatment of this letter.
2. Illegal recruitment of senior staff, four of which are from his Okitipupa clan of Ondo State.
3. Yorubanization of the three out of four departments (his clannish surrogates head 3 critical departments) against the spirit and letters of federal character; amounting also to an unprovoked attack on the sensibilities of Edo intelligentsia, who are host to the Federal agency.
4. Yorubanization of the BORBDA management Committee. It's an incontrovertible fact that of the ten members of the Committee, eight are Yorubas, and Yoruba language has been adopted as the BORBDA lingua franka, with the express endorsement of the Permanent Secretary, Federal Ministry of Water Resources, who is delightfully aiding and abetting the fellow (Rev. Ebenezer Olabode MAFAYEYOMI).
In the light of the above groundswell negations of civil service rules, indigenous employment quota, and etiquette of public administration, we most humbly demand the immediate and unconditional sack of the Managing Director of BORBDA; the appointment of an Edo man or woman in his stead; the resuscitation of a sense of harmonious relations between the interventionist agency and Edo communities who have been systemically annihilated by a federal civil service cabal from Ondo State.
The sordid reality about this once resourceful agency is that, it Waterloo started in 2013 following the MD's appointment, it lost its value in massive food and other agricultural products production, including its dependable water ventures of the 70s, 80s, 90s up till 2013. In these periods, these agency was a pride in the international reference points by the Food and Agriculture Organization (FAO), Africa Development Bank (ADB), ECOWAS, World Bank, etc. As we speak, the agency is less than a 'skeleton', unless surgical intervention is done immediately and unconditionally.
Mr. President, as a people known the world over for peace, you should intervene immediately, as our tolerance limit has been overstretched, and we fear that our youths and women may resort to self help if steps are not taken to ameliorate our dissatisfaction as a peaceful and responsible host community. And we will not take responsibility if peaceful protests erupt against the management of BORBDA.
Yours sincerely,
Dr. David Ekomwenrenren
Director of Publicity and Intelligence, Benin National Congress.
Cc:
1. The Senate President
2. The Speaker, House of Reps
3. The Governor of Edo State
4. All elected National Assembly members from Edo State
5. The Speaker, Edo State House of Assembly
6. The Oba of Benin, Oba Ewuare 11
7. Edo Forum of Patriots Inc
8. Nigeria Union of Journalists