SPAIN UNVEILS DEEP BUDGET CUTS AMID EU ECONOMIC FEARS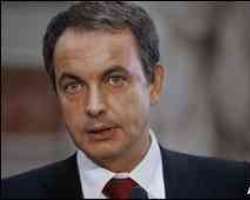 Prime Minister Zapatero has come under pressure to make faster cuts
Spain's PM has outlined measures aimed at tackling the country's budget crisis, amid concerns that problems afflicting Greece may spread.
Speaking in parliament, Jose Luis Rodriguez Zapatero announced austerity moves including cuts to pensions and civil service salaries.
The budget deficit is currently 11% of GDP. On Monday Spain said it planned to cut it by 4.7% by the end of 2011.
Fears Greece's problems would erupt elsewhere has put pressure on the euro.
In his speech to parliament on Wednesday, Mr Zapatero gave details of his fresh deficit-reduction plan.
Index-linked pensions will be suspended from 2011 and funding for regional governments cut.
"We aim to cut civil service wages by an average of 5% in 2010 and freeze them in 2011," he added.
Mr Zapatero says that the plans will save more than 15bn euros ($19bn; £12.5bn) over the next two years.
EU jitters
The BBC's Sarah Rainsford in Madrid says Mr Zapatero approved an austerity package in January but that since then little has happened.
So far, our correspondent says, Mr Zapatero has shied away from really painful measures.
But now Madrid is now under pressure from the European Commission to deliver.
The European Union has been anxious to see more fragile European economies including Spain, Portugal and Greece impose tougher austerity measures.
On Sunday it approved a massive 750bn-euro ($975bn; £650bn) rescue package to prop up European economies struggling with large debts.
Spain's economy is expected to shrink this year by 0.4%, according to the European Commission.
Many Spaniards fear the effect the cuts will have on the economy, which has already contracted sharply, and where the unemployment rate exceeds 20% – twice the eurozone average.