1,000-pound woman trying to get help for weight problem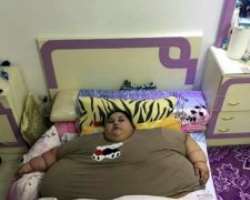 A 36-year-old woman in northern Egypt hasn't left her home in 25 years due to her size— she weighs 1,102 pounds.
Iman Ahmad Abdulati is now hoping to get help, Central European News (CEN) reported.
Iman's sister, Chaymaa' Ahmad Abdulati, went public with the problem after her family visited local hospitals in search of help but didn't find a solution. Chaymaa' and the girls' mother spend most of their time caring for Iman, including feeding and cleaning her and helping her go to the toilet, as she can no longer walk.
Iman weighed 11 pounds at birth and struggled with her weight throughout her childhood. Then, when she was 11, she suffered what her family believes was a stroke and became bedridden. Iman never went to school because of her weight problem.
According to CEN, medics believe her condition is caused by a fluid retention problem, meaning her body is retaining large amounts of extra water.
More on this…
World's heaviest person walks for first time after weight loss

Funnel-fed model's dream is to become world's fattest woman

6 medications that cause weight gain— and how you can fight back