PREMATURE BABIES 'MORE SENSITIVE TO PAIN', STUDY SHOWS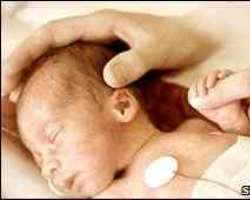 Premature babies can be more sensitive to pain in later life
Premature babies feel pain more acutely than healthy newborns largely due to the invasive hospital treatments they receive, experts believe.
Tests at University College London suggest procedures like tube feeding, injections and blood tests make pre-term infants more sensitive to pain.
The researchers say better pain relief should be given to premature babies in intensive care.
Their study is published in the journal NeuroImage.
The UCL team carrying out the study measured the brain activity of babies with an electroencephalogram (EEG) while they underwent routine heel lancing to draw blood samples.
Stronger brain activity was seen for premature infants who had been in hospital for at least 40 days, compared to healthy babies of the same age.
Being born prematurely and undergoing intensive care affects pain processing in the infant brain
Dr Rebeccah Slater, UCL
This suggests that the premature group are more sensitive to pain.
When both groups of babies were gently touched on the heel there was no difference in brain activity, however, suggesting that the sensitisation of preterm babies is specific to pain rather than touch.
This, say the researchers, implies that premature babies can benefit from a mother's touch – being held or cuddled – in the same way as normal infants.
Pain relief
The study, which was funded by the Medical Research Council, supports previous studies that reported increased sensitivity to pain in older children who were born prematurely.
Dr Rebeccah Slater, lead researcher on the study from University college London, said: "Our study shows that being born prematurely and undergoing intensive care affects pain processing in the infant brain.
"Our ability to measure brain responses to painful events will lead to a better and more informed approach to the administration of analgesia, and enable us to define optimal ways of providing pain relief in this vulnerable population."
Andy Cole, chief executive of special care baby charity Bliss, says it is imperative that babies receive good quality pain management to minimise any pain during treatment.
"Babies in intensive care for prolonged periods are usually critically ill and require these life saving procedures.
"Doctors and nurses use a range of techniques to ensure babies' pain is kept to a minimum."