SIASIA, IKPEBA DISAGREE ON ARGENTINA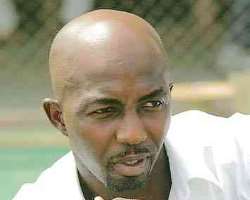 Former Flying Eagles coach, Samson Siasia
Former internationals, Samson Siasia and Victor Ikpeba, have expressed different views on the Super Eagles' chances against Group B favourites Argentina at the 2010 World Cup.
While Siasia, who scored a scorcher against the South American country at the 1994 World Cup in the USA, believes the Eagles should take advantage of the Argentines' poor defending, Ikpeba, a 1997 African Footballer of the Year, says a water-tight defence will be the key to a good outing against the former world champions.
Siasia said, 'I don't think the Argentine defenders are very good. They have good midfielders and great offensive players. We can find a way to deal with their defenders but it depends on the kind of strikers we have.
'If they are goal-hungry and go out with a lot of enthusiasm, I think they can get the better of the Argentine defenders. If we play at the World Cup the way we did in Angola, we will be dead. This is the World Cup; all they have to do is create the chances and score them.'
But Ikpeba argued that solid defending tactics by coach Lars Lagerback could prove vital for the Eagles against Argentina.
The Atlanta '96 Olympic Games gold medallist said, 'I think it is key for us to defend very well. 'In our time, we played well in the attack and the midfield but we always struggled in the defence. If Lagerback can bring the team to defend and attack very well, I think they can have a good result against Argentina.
'The Eagles may lack match fitness but at least they still have some weeks to go and they can play friendly games to attain match fitness. Before the Olympics in Beijing two years ago, our players weren't playing but they ended up in the final of the competition. It depends on the motivation and whether the players really want to compete.
'Lionel Messi is not the only player in Argentina. They have other good strikers but Lagerback should find a way to deal with him by defending very well.'
Ikpeba however advised the Eagles not to underrate their Asian group opponents, Korea Republic, saying they could constitute problems for them too.
'The Koreans are full of surprises. You don't have to play only Argentina to get to the next round. There are other countries too. So we shouldn't focus on Argentina alone. The Koreans and Greeks parade very dangerous players too.'
The Eagles will begin their World Cup campaign on June 12 against Argentina.