Sam Dede teaches how to cut `birthday cake'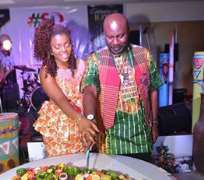 By Ayo Onikoyi
Nollywood actor, politician, lecturer and Director General of Rivers State Tourism Development Agency (RTDA) has found a calling. His calling which is so much in tandem with his mandate as the 'culture man' of Rivers State is to help Africans rediscover Africa and lift themselves above the slave mentality that has enslaved many for centuries.
In a bid to lead by example, the actor of 'Igodo' fame chose to have a big highly-garnished croaker fish as his birthday cake when he celebrated his 50th birthday days ago. It was his way of telling us that as Africans, we don't have to follow the Europeans and believe everything they do is right and right for us.
The Thespian posted a picture of himself and his wife on Facebook, while cutting his 50th birthday cake, with a caption that reads; "My wife and I at my 50th birthday celebrations last November. Take note of my birthday cake. There is African-ness in everything I do"