pers re-introduces new and Improved Pampers Baby-Dry Diaper with New TVC AD
Features Tiwa Savage and her baby,in line with its #MomsKnowBest Campaign against diaper rash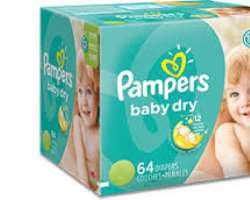 Lagos, Nigeria Oct 18, 2016 – Pampers, the world's leading diaper brand which is available in Nigeria,has launched a new TV Ad. The TV Ad, which features beautiful singer, Tiwa Savage and her baby, highlights the new and improved Nigeria Pampers Baby-Dry Diaper—its light weight, snug fitting and an in-built lotion.
In a recent survey, Pampers found that more than 63% of moms believe baby's diaper can cause bum rash and 53% of them use skincare products like Jelly, lotion, dusting powder to protect their baby's skin from rashes. The in-built lotion in the Nigerian new and improved Pampers diaper is built to take care of this parents' insight and is a result of an extended research and development. Moms who have tested the new diaper have expressed their satisfaction, stating that it helps keep baby dry, and comfortable all night long.
The 45second TV Ad is a testimonial from Tiwa Savage who shares her experience of using the diaper on her son, Jamil, who is now 15 months. "Hi guys! Look how my baby, Jamil has grown. Time flies and I'm sure it is the same for all you moms out there. And as they grow there is a worry we all share; baby rash. Some use lotions or petroleum jelly, but I found what works for Jamil is Nigerian Pampers," said popular musician and mother, Tiwa Savage in the newly released TV Ad.
While a wet diaper may increase chances of rash and also make it difficult for a baby to sleep and play, the new and improved Pampers Baby-Dry Diaper comes with an in-built lotion to help protect baby's delicate skin and leave it dry. It also has stretchy sides that adapt to a baby's shape and movements.
"Pampers understand that parent want to enjoy loveable and happy mornings with their babies. The New Pampers Baby Dry offers parents the driest diaper which locks-in wetness for up to 12hours,it is designed to absorb and retain a baby's urine which helps maintain baby's skin health, and it also provides best value by offering superior skin protection," said Tomiwa Ajewole, Pampers Communications Manager, Procter &Gamble, Nigeria.
Ajewole stressed that "The new TV Adhelps to bring the new and improved baby-dry to the attention of mothers who need to know that it is the best for their babies, by sharing the testimony of Tiwa Savage, mother to Jamil who trusts Pampers to protect him from rash and keep him dry."
The TV Ad will be shown on television stations across Nigerian and it can also be found online on Pampers' Facebook page.
New Pampers Baby-Dry Diaper offers the following Features:
Pampers Baby-Dry Diaper come in sizes 2, 3, 4. It is available nationwide.
Super Gel™: to lock away the wetness
Baby Lotion: to help protect baby's skin against rashes
4 Dryness Layers: to absorb wetness all night long
Soft outer cover: for a gentle touch to baby's skin
Stretchy Sides: for a comfortable fit however baby moves