Aisha Buhari as a Metaphor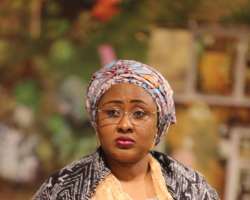 Let me start this piece by narrating a story I read somewhere about a certain three- year old boy whose father was the President of their country. Let's call this boy John. One day the country was celebrating an important anniversary. Many citizens lined up the route through which the President was being driven in an open jeep, at an incredibly low speed. They were waving their country's flag in the spirit of that celebration while the President acknowledged with the waving of his right hand. John and his mother were among the crowd. His mother had carried him on her arms and managed to position herself at the front row of the crowd.
As the President's convoy came to the part of the crowd where John and his mother stood, with both waving their flags enthusiastically like the other citizens, John expected his father to come down from the vehicle and hug him or throw him up into the air a few times as he would normally do at home. But the President just wavedperfunctorily to their side of the crowd as he did to others, without displaying any emotion, while the open jeep in which he stood continued its sluggish motion. John was visibly upset.
"Dad it is me. Stop!" he began to scream, as the President's car continued to move farther away from where they stood. John became angrier. "You are no longer my friend from today. Please don't come to play with me anymore", he said in anger. An elderly woman standing next to John and his mother scolded him for his apparent lack of respect.
"Shhhh", said the woman, putting her index finger across her lips. "You have to learn to show respect. You are talking to the President of this country", she admonished.
"I don't care", Johnretorted. "He may be your President but he is my dad", he said.
Relating this story to the Aisha Buhari BBC interview and its fallouts, it is important to know that what Buhari is to the rest of us, a brand that many associate with 'no-nonsense', is not necessarily what he is to Aisha Buhari, his wife. He remains to her fundamentally whatever nickname or pet name she calls him. She is therefore unlikely to be enamoured by the myth around the Buhari persona as manyof the President's supporters are.For Aisha, Buhari is first and foremost her husband and the father of her children. After 27 years of being married to him, it is safe to assume that she has a different prism through which he sees him and that not all the constituents of that prism are flattering.
Another important context for deconstructing the Aisha Buhari BBC interview is the famous dictum in William Congreve's 1697 poem, 'The Mourning Bride'. As Congreve, an English poet and playwright wrote: "Heaven has no rage like love to hatred turned/Nor hell a fury like a woman scorned." If we were to believe Congreve's thesis about a scorned woman lover, then we can argue thatAisha Buhari, even though she has brazed the trail in being the first Nigerian First Lady to openly criticize her husband while in office, she has not done anything anaverage woman who feels similarly scorned will not do. The difference may be only in approach.
We can only speculate on how and why things were allowed to deteriorate so badly that the First Couple had to literally wash their dirty linens in public. We can also assume that the BBC interview and the President's rather unfortunate response (for which he is now most likely to be remembered long after he has ceased to be President) are symptoms of a more fundamental crack.
One of the popular narratives is that Buhari, as a traditionalist (as most people of his generation are on the issue of gender) does not want his wife to have an overbearing influence in matters of the State as Patience Jonathan and Turai Yaradua were suspected of having. This version believes that Aisha was reacting to Buhari's determination to limit her influence on governmental affairs. This version is popular with Buhari's core supporters.
I have a different take on this. The truth is that it is difficult to have a functional marriage anywhere in the world, where, if the husband or wife is President or Governor, the wife or husband will not have a disproportionate influence on the government. The manner that influence is exercised may differ. Under Bill Clinton's presidency in the USA for instance, his wife, Hilary, was said to be a sort of co-President. The same was true of Nancy Reagan during the time of Ronald Reagan. So while it may be true that the title of First Lady is an 'African thing', it is nothing to be ashamed of. In fact by recognizing and formalizing the power wielded by a ruler's wife through the informal title of First Lady, Africans are being more realistic than their Western counterparts. In this sense, Buhari's alleged decision to cut the excesses associated with the unofficial office of First Lady is not the same as the public expecting that a President's wife will not have an influence in his government. The influence to be exercisedand how this should be done has to be negotiated, not handed down in a matter of take-it-or leave it or telling her that she belongs only to his "kitchen and the other room".
Over and above the banter Aisha's BBC interview and PresidentBuhari's tactless responses to it have generated, are very useful lessons:
One, if Aisha's discontent had been managed better, there would probably not be this embarrassment, for which Buharimay now be remembered for long after he has ceased being the President. Sometimes it may be better to engage than an undue reliance on strong arms tactics to achieve one's goal. In trying to resolve not just the Aisha issue but other contentious challenges in the country, the President should realize that if he does not negotiate with the 'negotiables', the weaker party will fight back, using whatever means at its disposal.
Two, Aisha's BBC interview may have put her marriage on the line just as any rash response to it by the President will also put the Buhari brand and mystique on the line. If I were Aisha Buhari, I will eschew thetemptations of being appropriated by national or international NGOs looking for a cause to justify their existence. Going forward, they will celebrate her and offer her many high profile speaking engagements. If I were Aisha Buhari, I will regard such romance as poisoned chalice. If I were Aisha Buhari, I will also be mindful of opposition elements trying to treat her as a heroine. For an amiable lady who has carried herself with good poise and dignity until the BBC interview, when the air clears, many are going to ask whether bringing your husband to public ridicule is a quality many Nigerians expect from a good wife.
Three, Aisha's charge that Buhari's government is controlled by a cabal touched a nerve in the populace. But the truth is that every government or in fact any big organization is controlled by a cabal – a small group of elites who are cohesive, conscious and conspiratorial (3Cs). They may have different names such as Kitchen Cabinet, Kaduna Mafia, Langtang Mafia, Bida Old Boys or Economic Team (under Obasanjo's Second Coming). Sometimes individuals such as the late Umaru Dikko or Diezani are used to typify a cabal in government.In fact political scientists talk about the 'Iron Law of Oligarchy' – the tendency for all forms of organization, regardless of how democratic they may be at the start, to eventually develop oligarchictendencies. The challenge for Aisha Buhari is to find a way to reach accommodation with the cabal (or her husband's kitchen cabinet). The truth is that she will become more sidelined if she neither has the confidence of the cabal nor that of her husband. This position will precisely be where she may be more dangerous. So it is up to her what she wants: to have real influence in the government and use that influence to impact positively on government or to fight both the cabal and her husband and destroy the Buhari mystique in anger. How will her children react to it when it is all gone?
For me, Aisha Buhari, has become a metaphor on how not to handle potential crisis situations – by both parties. And it is a crisis that if not resolved properly by negotiation could lead to whatdeterrence theorists call Mutually Assured Destruction (MAD). It will be gladdening to see the First Family reconcile and make a public show of such reconciliation. Every marriage has its own arguments.
Email: [email protected]
Twitter: @JideoforAdibe.