Fani-kayode's Wife Accuses Efcc Of Lying, Insists N295, 518, Not N2.3m, Was In Her Account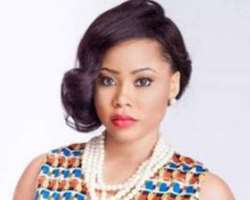 SAN FRANCISCO, October 18, (THEWILL) – Precious Chikwendu, who is the wife of former Aviation minister, Femi Fani-Kayode has described as a lie from the pit of hell, the claim by EFCC spokesman, Wilson Uwujaren, that her Access Bank account was used to launder ex-president Goodluck Jonathan's campaign funds or funds from the office of the former National Security Adviser, NSA.
She also debunked the assertion by the anti-graft agency that approximately 2.4 million naira balance was found in the said account at the time of her arrest, explaining that the said account was opened in 2005 at Onitsha when she was about to commence her university education.
The Economic and Financial Crimes Commission, EFCC, had on Monday evening, denied arresting or detaining Fani-Kayode's wife or kid, adding that the bank account from which she attempted to carry out s transaction had a balance of over N2 million .
Explaining that as at time of the opening of the account, the bank was not known as Access Bank but Intercontinental Bank, Chikwendu stated that she used the account from 2005 till 2012 when it was abandoned and went dormant.
This explanation was contained in a statement issued on Tuesday by her Special Assistant, Chineye Okechukwu, which reads, "It was not utilised or activated again until August 2016 when small deposits of between N200,000 and N500,000 were made into it and the total amount that entered into that account over a period of 2 months was approximately N4 million naira.
"The money was spent on looking after the family, paying staff salaries and to buy groceries.
"Consequently at the time that the account was frozen last Friday, the amount that was left in it was N95,000.
"She was not notified about the freezing of the account until someone paid N200,000 into it on Saturday.
"The money entered the account but after that it could not be accessed.
"She decided to stop at the bank on her way out of Ado Ekiti on Monday in order to know what was going on and she was then detained and offered to the police and EFCC, together with her 8 month old son Aragorn, for arrest.
"The total amount that was in the account at the time of the arrest was N295,000 naira which is approximately 600 USD.
"This is reflected in the screenshot above together with the relevant dates.
"How Wilson of the EFCC arrived at his figure of N2.3million being in the account at the time of arrest is mind-boggling and absurd.
"It is nothing but a shameless and barefaced lie and he and the organization that he works for are nothing but pernicious liars.
"It is equally absurd to suggest that the said account had anything to do with Jonathan Campaign funds or Dasuki NSA funds given the fact that the said account was not even active or functional between 2012 right up until August 2016.
"The Presidential campaign took place in 2015 and at that time the account was dormant.
"At the time that she abandoned and stopped using the account in 2012 Precious Chikwendu had not even met Chief Fani-Kayode.
"The lies of the EFCC on this matter are sickening and they are wicked and sadistic people.
"Wilson's assertions are just one example of such lies.
"The only reason that Precious Chikwendu's bank accounts were frozen and she was subjected to such inhuman treatment is because she is married to Chief Femi Fani-Kayode who is a politician and a leading member of the opposition.
"They wanted to punish her and their 8 month old son Aragorn just to hurt and spite Chief Fani-Kayode.
"Finally let me add this. It is not true that Precious Chikwendu has 17 accounts in GTB. This is another dirty EFCC lie.
"She has one current account with a merged savings account in GTB which was opened in 2012.
"Outside of that she has a dollar account and a pounds sterling account with the same bank which were all opened on the same day in 2012.
"None of these accounts have any connection whatsoever with public funds or with Chief Femi Fani-Kayode and neither was any GTB BVN linked to his. Again on this issue the EFCC lied.
"Neither is it true that the EFCC were not at the bank in Ado Ekiti to arrest her because three of their operatives were actually there manning the bank door with their identity cards pinned to their jackets. They were backed by five fully armed policemen in uniform.
"They made it clear to Precious Chikwendu that they had been ordered to bring her to Abuja by road that same evening and that if she could not leave her son in the bank with the manager he would have to come for the ride too.
"Had it not been for the intervention of Governor Fayose that is exactly what would have happened and only God knows what they would have been subjected to on the way."
Written by Ugonnabo Ngwu.