Our Education Is In The Other Room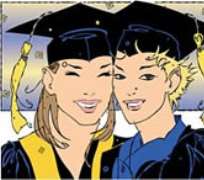 Over the week, I was busy with much on my table, I had to be at the Open Session of the Peace and Security Council of the AU, I had unfinished office business, and was reflecting on the fire that gutted my beloved University of Jos, I am an alumnus, and proudly Josite. For me, it was an opportunity lost, a reflection of the current state of education in Nigeria, and it forms the basis of my admonition this week.
Pardon me to use the current lingo in Nigeria, our educational system is in the other room, so the University of Jos Library and a few departments were razed to the ground by fire. Not even a single book was saved and no one is talking about it. We are all in the other room.
Textbooks in most subjects are not there, thank Google who's got all the answer, but we do not have students who can procure same, and study side by side with the examination syllabus, syllabus that have been completed before the commencement of examination by teachers. Libraries have refused to go info-tech, and remain littered with books of 1914. While practical on-hands learning away from just examination remains a mirage.
In the other room we have refused to provide basic infrastructure, and conducive atmosphere in schools, qualified and committed teachers who teach their subjects effectively and guide students to become exemplary in their studies are becoming a rarity.
The question of whatever happened to the old school inspectorates' system remains a tales by moonlight.
In the other room, with almost a 150 universities plus institutions of degree equivalent awarding status all producing graduates every year. The statistics of jobless graduates is all too staggering. Need I add the quality of the graduates remains another matter?
We have a system that places plenty of emphasis on "come to the interview with your certificate." So the desire to acquire these colorful, ribbon crested paper called certificate continues to contribute in large proportions to the bastardizing of the whole system.
Quiet amusing that graduates of Universities of Agriculture in Benue, Abia, Ogun, and so on would be walking the streets looking for job when we have available land for farming. Agricultural science is a theoretical subject and schools do not even have farms no more, Universities of Agriculture take more students for law than Agricultural Extension courses.
We are there acquiring all manners of certificates from B.sc, MBA, PDP to APC, yet a man who emerges from the university as a chemical engineer is looking for a job, when we need several thousand chemists or is it Business Administrators to go into the Ogogoro, Sapele, Brukutu(all local brew) market, and give it a semblance of respect through proper distilling and packaging. Our education lacks orientation, a mind orientation, instead we are saddled with graduates with the odious idea that to get a job you must hold a certificate.
Today what is the value of the education given to a young man who is doing his mandatory service year or lives in a guinea worm infested area and yet is incapable of causing a revolution in the lives of the villagers by transforming their drinking water into healthy supply?
Please what is the use of education given in physics to a young girl when the lights go out, she does not know what to do to get light again. I know a Nigerian who added a Boys Scout Merit Certificate as part of his educational certificates…
What we have today, in spite of innovations and the bold attempts to re-orientate it, remains, orthodox, slow foot, and myopic. Our once sharpened the head to near pin end quality educational pride is fading and even this was famed for making the possessors limb atrophied by long disuse.
Today how many young persons want to go home and at the beginning of the year cut the bush in readiness for the new year's planting; all the values kids see are big cars, big mansions and reality shows, add the football leagues of Europe.
Our system has been abused, misused, disused and left in a state of disrepair. Show me a leader, a politician with so called popular mandate and I will show you an Oga at the top's wife with her own private Montessori and international schools with fees from the outrightly outrageous to the unbelievably murderous, and off course they patronize themselves. It seems but a fact that the act is intentional, because you educate the children of today and you guaranty a future for tomorrow. But the reverse is the case; they educate their kids, by all means necessary and guaranty a future, a continuous oligarchy of crooks.
The technical and crafts schools have been bastardized, degraded and left in a coma, with little or no hope of regaining life.
We are a nation of largely intelligent illiterates so we do not bother about statistics, we have scholars who have built reputation for 'xeroxing' texts of others word for word as handout on a 'buy and pass basis', that is when the teacher is not a Mr. Lecturer insisting that Bimbo must go the whole length of her skirt to pass. We smile at the number of school dropouts; we feign ignorance at the number of school age children that are not in school. We are ignorant of the rate at which some of our institutions produce pirated literate, unproductive literate and in many cases full illiterates.
In my daily routine with Newspapers I am beseeched with adverts from schools offering 'better' education, from Uganda to Belize to Ukraine…
Let me end this way; It is a shame that we are not talking about the fire at the University of Jos, it is a shame that the University authorities could not galvanize the populace to it's plight, could not use the social media to bring empathy to it's cause. No one cared, the fire was just like any incident in Nigeria's national life, it's in the other room, and it will just come and go while our leaders entertain us with light hearted comedy at our collective expense, when Universities get burnt and we are unperturbed, is it not safe to say that we are struck by the fallacies of the fragrance of that other room, for how long—Only time will tell
Prince Charles Dickson PhD
Freelance Journalist
Research|Policy|Media|Private Investigation
2348033311301, 2348184880370
Alternate Mail: [email protected]
Skype ID: princecharlesdickson
Disclaimer:

"The views/contents expressed in this article are the sole responsibility of

Prince Charles Dickson

and do not necessarily reflect those of The Nigerian Voice. The Nigerian Voice will not be responsible or liable for any inaccurate or incorrect statements contained in this article."
Articles by Prince Charles Dickson