Mrs. Ebelechukwu Obiano: The Imperatives of A Legacy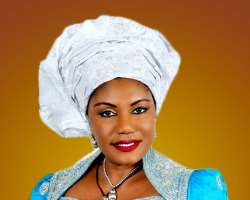 It is said that "everyone leaves behind a legacy after they die, but only few people leave behind a legacy worth talking about." For the wife of the governor of Anambra State, Her Excellency, Chief (Mrs.) Ebelechukwu Obiano whose birthday passed almost unnoticed recently, her dedication to humanitarian work has been nothing short of phenomenal.
A woman whose striking beauty and brains coupled with an unwavering commitment to charity epitomizes the words of Francis Bacon the 15th Century British statesman and philosopher who said that "The best part of beauty is that which no picture can express." This saying is without doubt evident in the many ways Mrs. Obiano has been touching the lives of indigent widows and the less privileged in the society through the programmes of her NGO, Caring Family Enhancement Initiative (CAFÉ).
In keeping with a personal pledge made in 1991 and dedication to the Christian ethic of sacrificial love, Osodieme, as she is fondly known, has always promoted the dignity of human life and for two and a half years since her husband Chief Willie Obiano became the governor of Anambra State, chose to compliment his commitment to good governance with attention to the soft issues of caring and giving. To date, she has through CAFÉ, given artificial limbs and wheel chairs to over five hundred persons, trained and empowered over two thousand persons mostly women in various trades.
Mrs. Obiano's modest effort at improving the living conditions of the helpless and providing clean water is attested to by many. CAFÉ setup a home for mentally challenged persons in Nteje where many persons have been treated and discharged back to their families. The NGO also took the unprecedented step of building and handing over nine standard 2-Bed Room houses in Agulu, Alor, Amichi, Amorka, Enugwu-otu Aguleri, Ogbunike, Nri, Umunya and Awba-Ofemili. In the same vein, CAFÉ Market toilets have been completed at Eke Igwe Nteje, Afor Mbaukwu and Afor-Igwe, Umudioka to boost hygiene and promote the dignity of market women in rural markets while CAFE water projects are now spread across fifteen communities including special institutions. And there are more under construction.
Of major significance is that these laudable interventions of CAFÉ were achieved with obvious lack of funds or government support. Driven by life-long passion for caring, Mrs. Obiano expanded the scope of her charity projects with personal financial support and encouragement by her husband, our governor, Akpokuodike who graciously donated his salary to the course of the NGO. Following the successes recorded by CAFÉ and a track record of accountability, other distinguished donors and illustrious sons of Anambra State have since joined in supporting Mrs. Obiano's labour of love.
For a woman given to quiet philanthropy her laudable initiatives and selfless disposition have not gone unnoticed. In its wake have come unexpected encomiums and awards from far and near with honours rolling-in from home and abroad. A few instances include her recognition by the Ogbunike Progressive Union with a Merit Award in 2015; the conferment by the Laity Council of Onitsha Archdiocese on her the title of Duchess of the Laity, and St Luke Anglican Communion Nsugbe which singled her out as Nnedioranma.
Not to be outdone are many secular organizations who also considered her fit and proper for recognition. Earlier in June, she was honoured with 2016 Award of Excellence by the Nigerian Women Association of Georgia (NWAG) Atlanta, USA for what they described as her "Caring Family Enhancement Initiative (CAFÉ) which benefits the downtrodden and the disadvantaged with medical mission initiative, while actively providing solutions to unemployment issues in Anambra State, which are aligned with NWAG mission to empower women, youth and children."
Interestingly Mrs. Obiano's work through CAFÉ, has also attracted the attention of international development partners like EU and the UNICEF who sought her out and are set to crown her as 2016 Water Sanitation and Hygiene (WASH) Ambassador, in recognition of her charitable disposition and track record in the promotion of clean and healthy environment.
The Lady of the moment, Osodieme is often quick to admit that the awards are mere spurs to do more for others rather than for chest beating. As the development partners roll-out the Open Defecation Free (ODF) Road Map, and observe the 2016 Global Hand Washing Day with the theme "Make Hand Washing a Habit," the opportunities for collaboration with Mrs. Obiano and CAFE are limitless judging from her strengths at advocacy and outreach to women in hard-to-reach communities.
It is undeniable that Mrs. Obiano as WASH Ambassador, working in tandem with the EU and UNICEF and other development partners will further promote the institution of safe Water, Sanitation and Healthy Anambra communities; boost efforts at sustainability as well as position the state for more opportunities in the years ahead. It is on this note that we join Ndi Anambra and all men and women of goodwill to say congratulations to Her Excellency, Chief (Mrs.) Ebelechukwu Obiano as she is crowned WASH Ambassador on Tuesday, October 18, 2016.
Ozumba, a public affairs commentator writes from Enugwu-Ukwu.
Disclaimer:

"The views/contents expressed in this article are the sole responsibility of the author(s) and do not necessarily reflect those of The Nigerian Voice. The Nigerian Voice will not be responsible or liable for any inaccurate or incorrect statements contained in this article."