Agric Is The Way Out Of Nigeria's Economic Problems—Gov. Ganduje Declares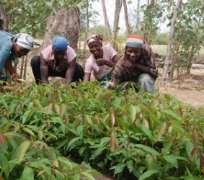 Governor Abdullahi Umar Ganduje of Kano state has described agriculture as a formidable way to make the nations' economy bigger and resilient.
The governor noted that with the current economic situation caused by falling price of oil globally, Nigeria must return to the drawing board and embrace agriculture for nation building.
He made the remark while receiving a delegation from the Nigerian Institute of Food Science and Technology, NIFST, led by its national Vice president, Dr. Dahiru Adamu, who visited him at the Government House in Kano.
"Mr. President has already directed states to embrace agriculture and here in Kano, we have already taken steps in that direction. Nigerians must be determined to take advantage of our agricultural potential for national development".
Dr. Ganduje also pointed out that his administration has mapped out a plan to add value to the value chain of dairy, as a result of which 60 Fulani youth were sponsored for training on animal artificial insemination in Turkey.
The aim, according to the governor, is part of effort to boost animal production and to domesticate Fulani herdsmen, pointing out that prevailing trends have shown that wandering with animals for pasture has no economic value.
On the forthcoming conference of the Nigerian Institute of Food Science and Technology, NIFST, Governor Ganduje assured of the support of the state government towards achieving the set goals, pointing out that the resolutions of the conference would be of tremendous benefit to his administration.
In his speech, the national Vice president of the institute, Dr. Dahiru Adamu explained that Kano was chosen to host the 40thannual general meeting of the institute and its international conference, in view of the state's leading position in agriculture.
Presenting the cheque to the bereaved, Governor Ganduje said the money was given to them so that they can buy a house, giving the fact that the late doctor was living in a rented apartment until his death.
The governor further announced the state government's decision to sponsor the education of his two children from primary school to university level, even as he gave a cheque of N180, 000 to the family for the kids' school fees for this year.
In his response, father of the deceased, Malam Sani Yakasai thanked Governor Ganduje for his kind heartedness.
Meanwhile, Governor Abdullahi Umar Ganduje presided over the swearing in of Hafsat Kawu Muhammad as a Permanent Secretary in the state Civil Service posted to Ministry of Women Affairs and Social Development.
The governor remarked that his administration is gender sensitive as several women are holding sensitive positions in the government such as Accountant General, Commissioners, Permanent secretaries and dozens of political appointees.
Salihu Tanko Yakasai
Director – General, Media and Communications,
Government House, Kano
12/10/2016