Dangote harps on need for increased lending to agricultural sector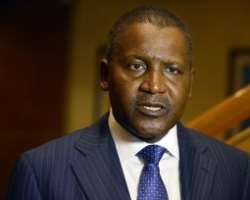 President of Dangote Group Alhaji Aliko Dangote along with state chief executives and entrepreneurs have slammed the  high interest rates charged by banks in the country.
For them, the practice is frustrating the development and growth of the critical agricultural sector in the country.
They spoke at the ongoing 22nd Nigerian Economic Summit in Abuja.
According to the governors and entrepreneurs,  with the current rates, farmers have been forced to struggle to access with access to funds to finance their expansion plans.
The Governor of Ogun State, Ibikunle Amosun particularly expressed displeasure with banks for not supporting state governments in their quest to develop agriculture and make Nigeria self-sufficient in food production.
He said, "If we walk our talk, and if we have the much-needed finance, of course, we will employ so many youths. But the truth is this, all the banks, they are not supporting us. At 12 per cent, how can anybody break even with that? We have to subsidise it and reduce it to nine per cent.
"Even now, farmers are asking for six and for them to get it right, it must be like that.
"Also, let me appreciate what the Central Bank of Nigeria, CBN, is trying to do now. It has just N5 billin which are trying to access. If we are able to get, of course, we will increase what we are doing."
Dangote on his part disclosed that it is not easy to do agriculture at 12 per cent interest rate.
He lamented that Nigeria is the only country in the world that has a population in excess of 50 million that is not sufficient in everything it consumes.
"We need to look at how we can do a major revolution in terms of participating in agriculture. If we do the right thing, even the target of three million jobs in the next two years is too small for a population of this magnitude."
However, Vice President Yemi Osinbajo took side with the banks, stating that with the rate of government borrowings, there is no justification for the banks to cut the interest rates.
He said, "There is no question at all that there is an issue with funding, and that is fairly complicated. On the first place, on the account of government borrowing, it becomes a bit difficult for the commercial banks to lend at below inflation and even possibly, below the Treasury Bills rate.
"That is why in a short term, intervention funds are what we think might work. So we are looking at intervention funds in agriculture, so we have the Anchors Borrowers' Programme; we are resuscitating the Bank of Agriculture, recapitalizing it, and we expect that the bank and a few other banks would be able to provide some cheap funds for agriculture.
"Also, when you look at what the banks are experiencing, to expect the banks to lend at 12 – 10 per cent is going to be very difficult, having regards, especially to government borrowing, which is something we have to look at long term."
Osinbajo said the Federal Government is trying to raise N1 trillion to enable it intervene in mortgage financing.
According to him, with the intervention, developers would be expected to build houses to the specifications of the Federal Government, so that with a monthly payment of N30,000, Nigerians can own their own homes.
Also, Governor Atiku Bagudu of Kebbi State, noted that the thinking that recession would go away tomorrow would not happen, adding that Nigerians should it as an opportunity as opportunities abound across the country.
Conversely, responding to the accusations of the banks, Group Chief Executive Officer, Stanbic IBTC Holdings, disclosed that the bank is committed to the development of every sectors of the economy, especially the Small and Medium Scale Enterprises sector.
He noted specifically, that a single subsistence farmer will not be able to get loans from banks, adding that unless they form a cluster, that is when accessing cheap loans would be possible.