93 Days To Screen At Chicago International Film Festival, See Movie Showtime In Nigeria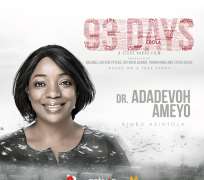 Popular box-office movie, 93 Days will be screening at the prestigious Chicago International Film Festival taking place in the Illinois Street, Chicago, United State from Friday October 21 to Tuesday October 25, 2016.
93 Days will be premiering on Thursday October 20, Friday October 21 and Tuesday October 25th.
The real-life drama is a captivating movie on how Nigeria courageously contained the Ebola pandemic resulting in the prevention of a national disaster. The title, 93 Days signifies the period Nigeria experienced its first case of Ebola to the day the World Health Organisation declared the nation Ebola free.
93 Days has been enjoying strong patronage in Nigerian cinemas and has been glowingly endorsed by cinema audience, celebrities, movie critics and bloggers.
About Chicago International Film Festival
The Festival opened in 1965 at the Carnegie Theater, where King Vidor, Bette Davis, and Stanley Kramer were honored for their contributions to American cinema. Since then, the Festival has grown to become a world-renowned annual event. The Festival's in-person tributes have honoured such international luminaries as François Truffaut, Orson Welles, Sophia Loren, Rainer Werner Fassbinder, Satyajit Ray, Howard Hawks, George Cukor, Spike Lee, Lucino Visconti, Faye Dunaway, Clint Eastwood, Steven Spielberg, Quentin Tarantino, Sidney Poitier, Patrice Chéreau, Ron Howard, J.A. Bayona, Viola Davis, Bruce Dern, and Kevin Kline.
Seeking out the best in international cinema, the Festival has discovered new talents and opened windows to a world of film previously or otherwise unavailable in Chicago. Over the years, the Festival has introduced creative new directors like Martin Scorsese, Wim Wenders, Bertrand Tavernier, Margarethe von Trotta, and Krzysztof Kieslowski, among many others, to Chicago. The Festival is also dedicated to showcasing films made by filmmakers from across the state of Illinois.
About 93 Days
A compelling human story of dedication, sacrifice, resilience and
survival, The movie which is directed by Steve Gukas, and produced by
Bolanle Austen-Peters, Dotun Olakunri and Steve Gukas, has been in cinemas
across Nigeria since September 16, 2016.
The movie demonstrates the bravery of the late Dr. Ameyo Stella Adadevoh
and her colleagues. From their encounter with the late American-Liberian,
Patrick Sawyer, who was the index case of the Ebola Virus Disease, to
ensuring that the right medical procedures were in place to stop the
spread of the disease in the country.
93 Days stars Keppy Ekpeyong Bassey as Patrick Sawyer, the movie also
stars Bimbo Akintola as Nigerian hero, Dr Stella Adadevoh, Gideon Okeke,
Somkhele Idhalama, Bimbo Manuel and veteran Hollywood actor, Danny Glover.
The movie since its cinematic debut has been attracting huge audience
across cinemas and was reported to have had impressive first week opening.
Cinema Showtime across Nigeria between Friday, October 7th- Thursday, October 13h
Viva Cinema
Ibadan
Friday 11:20am
Saturday 10:30am
Sunday 10:05am
Monday/Tuesday 10:35am
Wednesday 10:50am
Thursday 10:35am
Ilorin
Saturday to Monday 3:10pm
Wednesday/Thursday 3:25pm
Genesis Cinemas
Port Harcourt
Friday to Thursday 1:50pm, 6:00pm
Palms
Friday to Thursday 2:20pm
Maryland
Friday to Thursday 12:15pm
FilmHouse Cinemas
Asaba
Friday to Thursday 10:00am, 12:05pm, 2:10pm4:15pm, 6:20pm, 8:25pm
Akure
Friday to Thursday 12:05pm, 2:10pm, 6:20pm, 8:20pm
Apapa
Friday to Thursday 5:30pm, 7:40pm
Samonda
Friday to Thursday 1:30pm, 7:50pm
Calabar
Friday to Thursday 12:00pm, 2:10pm, 4:15pm, 6:20pm, 8:25pm
Port Harcourt
Friday to Thursday 3:00pm, 4:40pm
Kano
Friday to Thursday 12:30pm, 2:40pm
Dugbe
Friday to Thursday 2:00pm, 6:05pm, 8:15pm
Silverbird Cinemas
Festac
Friday to Thursday 12:35pm
Uyo
Friday to Thursday 1:30am, 4:20pm
Ikeja
Friday to Thursday 12:20pm, 4:30pm
SEC
Friday to Thursday 4:30pm, 6:50pm, 9:00pm
Kada Cinemas
Friday to Thursday 4:00pm
"93 Days is a masterfully crafted incredible story of bravery and sacrifice and is definitely a must see. It showcases the best of Nigeria; it's powerful, gripping and an emotive piece. I am proud". – Bolanle Austen Peters, Producer, 93 Days
For further enquiry, please contact BBB Media via @bbbmediang on Twitter or @bbbmedia on Instagram
WATCH THE TRAILER BELOW: