The Judiciary Under Siege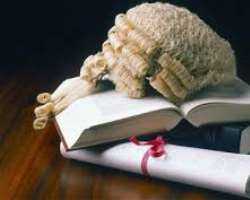 After the elections of 2003 in Anambra State, the then All Progressive Grand Alliance Candidate, Peter Obi decided to his case to court as he felt he had sufficient grounds to upturn the electoral victory of Chris Ngige of the ruling Peoples Democratic Party. Against all odds, he stuck to his guns and after a tortuous three year legal wrangling; he made history as the first governor to have his victory aided by the courts.
This opened the floodgates of court backed victories – Rotimi Amaechi in 2007, Adams Oshiomhole in 2008, Rahman Mimiko in 2009 and many others in the National Assembly as well as State Houses of Assembly.
A new power bloc – The Judges suddenly emerged as a force to be reckoned with. The hitherto underfunded third arm of government suddenly became the beautiful bride courted assiduously by politicians and public office holders who either saw them as a pivot to get into power or a protective shield to prevent them from getting behind bars for corrupt practices.
James Onanefe Ibori wasn't found guilty by any of the courts until he met his waterloo in the United Kingdom. Dr. Peter Odili has a perpetual injunction restraining any of his adversaries from making him answer for his eight years stewardship of Rivers State. Let's not forget his wife, Mary is a Justice of the Supreme Court. It is only in this clime that an injunction – something that is supposed to be temporary has taken the toga of permanence.
Plea bargaining became another ludicrous tool which saw politicians get off huge corruption allegations with the slap of the wrist. Former Edo State Governor, Lucky Nosakhare Igbinedion was convicted by Justice Abdul Kafarati in 2008 on a one-count charge and ordered him to refund 500 million naira, forfeit three houses and sentence him to three months imprisonment or pay 3.6 million naira as an option of fine. In 2011, the EFCC filed a fresh 66 count corruption and money laundering charge against him where he was alleged to have misappropriated 25 billion naira. The presiding Judge, Justice Adamu Hosbon surprisingly struck out the entire charge which made the eldest child of the Esama of Benin a free man. Igbinedion's case isn't the only preposterous one. From Orji Uzor Kalu to Joshua Dariye, Chimaroke Nnamani, Late Dipreye Alameiseyeigha, Saminu Turaki, Gbenga Daniel, Jolly Nyame, Michael Botmang, Rasheed Ladoja, Adamu Abdullahi, Attahiru Bafarrawa etc, the actions of the judiciary has been worse than the theatre of the absurd. No single conviction despite the mind boggling allegations of graft and abuse of office.
Justice Samuel Wilson Egbo-Egbo gained notoriety when he issued an order restraining the then Anambra State Governor, Chris Ngige from performing his official duties. He was also extremely reckless with the issuing of ex parte orders which led to his unceremonious retirement from the bench.
Allegations of Judges becoming emergency multimillionaires began to make the rounds. Justice Mohammed Yunusa who was later dismissed by the National Judicial Council was infamous for granting injunctions aimed at preventing law enforcement agencies from carrying out their investigative duties. A well-known case was his dispensing an interlocutory injunction preventing the EFCC from arresting or investigating former aviation minister, Ms. Stella Oduah. He was named as a beneficiary of a bribe by prominent lawyer, Rickey Tarfa SAN whose trial is still ongoing.
The recent raid on the residences of nine Judges has raised many questions urgently begging for answers. In the home of Justice Sylvanus Ngwunta was discovered over thirty-five million naira, over three hundred thousand dollars, over twenty-five thousand pounds and two hundred and eighty Euros. He was alleged to have obtained a bribe from Governor Ezenwo Wike of Rivers State to secure a victory for him. Another JSC, Justice Inyang Okoro is said to be constructing seven houses at the same time in his native Calabar through the aid of former Akwaibom State Governor, Godswill Akpabio and his successor, Udom Emmanuel. Okoro had in his possession over four million naira, over thirty-eight thousand dollars and 1000 Euros at the time of his arrest. Justice Abdullahi Liman was alleged to have received $2 million from the Senator Ahmed Makarfi led faction of the PDP to give a judgement that overthrew Senator Ali Modu Sheriff. Wike was alleged to have prevented his arrest. In the residence of Justice Adeniyi Ademola was alleged to have been found over three hundred million naira in different local and foreign currencies.
The revelations are heart wrenching and casts a big slur on the image of the institution that is supposed to be the last hope of the common man. The chummy relationship between the highly discredited political class and this supposed conservative institution is a great setback for the genuine practice of democracy. In the days of yore, Judges were seen and not heard to protect them from undue influence. The administrators in the temple of justice couldn't belong to clubs and were rarely seen in social functions in order to insulate them from the lures of filthy lucre.
Becoming a Judge was highly sacrificial and the financial deprivations they bore was something they cherished. The first indigenous Chief Justice of Nigeria, Sir Adetokunbo Ademola, Justice Adeniyi Ademola's grandfather gave up a thriving practice and budding political career as a member of the Nigerian Youth Movement to become a magistrate for a decade and then a Puisine Judge. He would have made more money at the bar. Justice Chukwudifu Oputa took a massive financial loss when he accepted the judicial appointment offered him by Dr. Michael Okpara. Legal Luminary, Afe Babalola turned down a judicial offer because he wanted to remain a wealthy man.
No sane lawyer accepts a judicial appointment and should expect to amass a fortune. A Catholic priest for instance shouldn't have cause to regret not having biological children. It is tragic that the nation has sunk so low.
We recall the case of Justice Ayo Isa Salami who refused a promotion to become a Justice of the Supreme Court because he was far more powerful as the President of the Court of Appeal. It didn't make any sense to be a titular Judge in the apex court. He clearly didn't want to be promoted upstairs and preferred to be shown the way out.
While making a case for the welfare of our Judges as is a norm in advanced climes so that the temptations to receive bribes is reduced, the best welfare may not be sufficient to clean the Augean Stables.
In an organised state, this revelation would have been an earth shaking scandal but in a failed state like ours, it will be business as usual in the next twenty-four hours or less. The democratic journey sadly hasn't even begun.
Tony Ademiluyi
Disclaimer:

"The views/contents expressed in this article are the sole responsibility of the author(s) and do not necessarily reflect those of The Nigerian Voice. The Nigerian Voice will not be responsible or liable for any inaccurate or incorrect statements contained in this article."
Articles by Anthony Ademiluyi