You Don't Have To Leave Nigeria To Succeed As Model – Isio Wanogho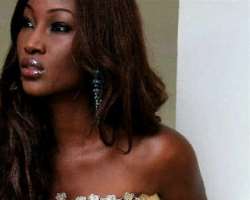 No doubt, Isio Wanogho is one of the top models in Nigeria. Now a TV show presenter and fashion designer, the artwork lover spoke with Temitope David-Adegboye on life as a model and other ventures, which she is into now.
You've moved on to being a presenter from modelling, how did you evolve?
Honestly, it wasn't a conscious effort for me to switch from modelling to being a presenter; but as a model I used to grant a lot of interviews and appear on a lot of shows, some talk shows. And then I had a friend, who asked that I make a guest appearance on his show. That was the first time ever that I did a thing like that. That was a couple of years ago and I did that show and it was nice. After that I was called for an audition for Close-up when they were sensitising Nigerians with Salsa dance. They were looking for a media face. I thought it was a regular modelling stuff, so I went there. So they said, I can speak, I'm articulate and all that. I got the job and I had that contract for a while, after which I moved over to Spice show and then to G-Bam show.
Did you have any embarrassing moment during your first time as a presenter?
It's kind of weird when you have that script and you have to learn it. So, it was not just me talking off my head as a model, I had to know that there was a particular message I had to pass across. I was a little bit nervous, but it passed. I later saw it as I feel when I'm talking with my friends every time I am presenting and that's it.
What was the feeling like the first time on the runway?
I was terrified. I always wanted to be a model, but before I started I had to learn a lot of things. People just think that once you're beautiful, tall and slim, automatically you are a model. But you are not. Modelling is not about beauty of face. It's more about beauty of form and for you to be symmetrical. And I had to work on my confidence level because I was absolutely shy. It's not easy to work in stage in front of hundreds or even thousands of people. You never really get used to people looking at you but if you want to succeed as a model, that's the first thing you have to conquer. You have to be able to work in a room where there are 2, 000 eyes and you'll not feel anyhow. I don't mean this in any funny way but I had to get used to been looked at. For any regular person that who works into a room where 50 people are seated and they all just keep quite, you feel somehow. But as a model, you just see it as 'okay, it's normal'. Once you can conquer that, you're good to go.
Are you done with modelling now?
No, I'm not done with modelling yet. I love modelling. Modelling is like one of my babies. I really enjoy modelling. I'm not done with modelling but I've moved on to other things. I design clothes now. I'm working on my clothing line, which I'm going to launch next year. I've already started producing clothes, I did stuff for the Lagos carnival, design clothes that I wear and I have a few clients now. But I want to do it big, so I'm taking my time.
What would you do differently from what other fashion designers are doing?
Designs make a difference so I'll make a difference. I would make clothes that I would be proud to wear – the kind of clothes that you'll dream to wear.
Are you making clothes for the size seven and eight or plus size?
No. I think a woman should be beautiful irrespective of what your size is. I think beauty comes from the mind. See yourself as beautiful, wear beautiful things and so on. I don't care about body – whether size zero or size 14. If you are a woman, you should dress your body, enhance it, hide the flaws, feel and look good whenever you can. No matter your size, there's always an opportunity to look good.
What prepared you for the different ventures you are into now?
Literarily, I'm an artist. I read creative arts. I paint, I write, I sing when nobody is listening.
Why only when nobody is listening?
It is because I enjoy it. I like to sing when nobody is listening. Once I know you're listening, I stop. Singing just gives me personal pleasure.
Most models think they can only be successful in South Africa and New York, why are you not in any of these countries?
No, I don't agree with that. I'm a living, breathing testimony that you can make something good from Nigeria. I never had to leave Nigeria to boost my modelling career outside and the industry has been massively supportive. I didn't have to go anywhere. Most people that are my age cannot boast of grab what I was able to. Nigerians are very quick to discredit our own and get our system flawed saying things never happen here. But there is still some good in it. The industry has been kind to me. I've made something from within and I'm glad. My live may and may not have been different. I may vhave made a lot of money if I had done otherwise, but this is what I chose and I'm glad it's working.
Are you saying that it never crossed your mind to step out of shores of Nigeria for better prospects?
Oh, it did. But I was in school and there was no way I was going to drop out of school for any reason. I chose my bachelor's degree over that and I'm glad I did.
How would you access modelling industry in Nigeria?
We do have an industry, but the challenge is that we are not growing. Other countries like Ghana and Sierra Leone are growing. South Africa has grown. We shouldn't even compare ourselves with western world.
What do you think is being done wrongly?
I can't seem to place my hand on it now. It's between the qualities of models been churned out to activities and beliefs of agencies, operators and then paltry amount models are paid. When I started modelling, we had a buoyant fashion industry. We had models we used to look up to and whenever we see them at any events, we go 'wow, this is a privilege'. I don't see that happening now. Again, the quality of models is worrisome. There are a lot of people who think that simply because they are beautiful, tall and slim, that automatically makes them a good model. Rather, talent, composure and a whole lot more make you a good one. I didn't go into modelling because I have the body or face. I had wanted to be a model since I was six years old. All through primary and secondary schools, I knew I was going into modelling. Like I said, it's a whole lot. Discover yourself and be patient to grow.
What's your take on the many model search programmes in recent times?
I think they are great. I don't think there are too many yet because there can never be too many. Reality TV is the in-thing now. The sky is definitely big enough for everybody to fly in as long as they give opportunity for good young hands to be discovered and also organise it properly.
How do you intend to enhance and groom the career and lives of upcoming models?
I actually did. I trained a couple of models for Davida and it was really a success. But I had to build my own portfolio too and I went into presenting and so on. So, I couldn't continue with that. But I will continue, I definitely will continue to groom models. I mean, I'm into designing now and I'll surely be in need of some good models to strut my stuff. So, I will in my own way. But right now there so many other agencies that are equally good and I can trust them with a model's career. Let's say if you are a new model and you want to make a career out of it, I can introduce you to these trusted ones and I can go to sleep, thinking that these young ones are in safe hands. That's what I'm doing right now.
What's your relationship with other models like, especially the upcoming ones?
Some of them know me, while others don't really know me. I look very different from what people see on billboards and runways such that when they even see me at any event, they don't really recognise me. But for those who do recognise me, I guess the relationship is cordial.
Do they seek for advice and assistance in any form?
Yeah, I get a lot of calls and mails from young girls that want to go into modelling and want to know what to do, who to talk to and where to go. I have designers that asked me what I think of sketches they make. In the same vain, I have other designers that I look up to for advice on how to go about my clothing line and also show my own sketches to. So, it's a symbiotic relationship from one generation to another.
Tell me one thing you've either read or heard about you and wondered if they are actually referring to you.
I don't think people know me. Sometimes I read some of these things, especially in the soft sell magazines and I could swear I'm reading a plot of a Nollywood movie. I mean, it looks and sound so fascinating. My life is not that fascinating. My life is more of work, work and work.
So, you are a workaholic?
Yes, I am a workaholic. I love to work. It gives me joy and pleasure.
The table is set for three others to join you for dinner. Who and who would you invite?
I'd invite someone, but I'm not going to say if that person is a man, woman, boy or girl, child or pikin.
Then, you are not telling me anything.
Well, just take it like that for now. Then, I'll invite my mum. Why are you limiting me to just three? Why not four?
Okay, let's have five.
Then my parents and Oprah Winfery.
What's your best colour?
I have four best colours. I guess that shows the artistic nature in me. I like black, white, dark red and cyan.
When will Isio settle down for marital life?
I will when it's time for it. I mean every girl wants to get married – at least most girls want to get married and that include myself. But I'll not torment with the taught of when it will or it will not happen.
Aren't you under pressure from your parents or friends to get married?
Yeah, I am a graduate and nobody is pressurising me. My parents want me to make a good choice so I can be happy. My parents are sure that they brought me up the right way so I can make the right decision in life. If I meet someone nice, beautiful that I share the same values with and wants me to be part of his life forever, and I want him as a part of my life forever, I'll do it.
Are you into any relationship that may lead to you settling down soon?
Haaa, I won't answer this question. I will never because I've learnt from past occurrences.
I'll simply say I am happy with myself now.
Let's talk about secrets of your beautiful features.
You may not believe this but I just discovered that for me rubbing my skin with different products is just wasting a lot of time and energy. Some of these products sometimes end up damaging the skin. And once it's ruined it's worst to get the skin back to what it used to be. I'm careful so that my skin does not spoil in the first place. I don't use those fantastic products everybody talks about. I have a dark skin. I just want to maintain that. I've just discovered shea butter, that's what I use now. I make sure I wash my face before I go to sleep. I use baby wipes to just clean whatever make-up is left and I use my shea butter cream on my skin.
How do you maintain your slim figure?
I used to diet a lot, but now I don't really bother. I think the body is so funny in such a way that when you worry about certain things that is when such things happen to you. When I used to worry a lot about getting fat I was adding weight. Now, I don't really care and I have lost quite a bit of weight. I only eat when I'm hungry, I don't eat because I see food. If I'm not hungry, I don't eat and when I'm full I stop. I don't eat late. From 7 p.m. I don't eat till the next morning. If I'm very hungry, I don't mind eating two bowls of rice.
What's your advice to upcoming models?
There is nothing wrong in knowing yourself. I think they should be honest with themselves about who they are. For instance, if you are 5 ft 2", don't you think of going into fashion modelling. Don't start praying and hoping that you'd make a star on the runway. Just be honest with yourself. And if you are a little curvy, there's nothing wrong with that. I'm quite curvy myself. But I still model. Do the right thing, groom yourself, take etiquette classes -– learn how to talk, smile, sit, eat in public and so on. People take a lot of things for granted, but they matter. Learn diction. Learn how to speak and pronounce certain words. Learn how to articulate your thoughts. If you want something good, you have to invest in it. You can't be rude to older models, make-up artists, designers or even anybody. There are ways to pass on your message without being bitchy. You can't be late all the time. You can't be acting like a diva when you re nothing. Just groom yourself well. Forget that we are in an industry still like this. If you respect yourself, everybody will respect and treat you well.