Enugu govt to complete upgrade of Zik's official lodge in 30 days – Project Manager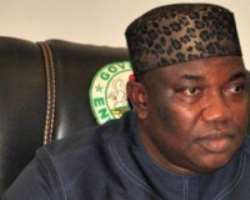 Repair works at the Old Premier's Lodge, Enugu, the residence once occupied by Nigeria's first president, Dr. Nnamdi Azikiwe, as premier of the Eastern Region has reached an advanced stage.
The upgrade is sequel to the intention of Governor Ifeanyi Ugwuanyi of Enugu state to turn the late statesman's former official residence into a tourist site.
The governor had announced the plan during a courtesy visit to the Azikiwes' Onuiyi Haven residence in Nsukka, last month.
The project's coordinator, and general manager of the state's Housing Development Corporation,  Mr. Agu Chukwuemelie, said that barring the rains the building's facelift would be completed in one month.
"We would be done in the next one month. We want to have that place as a heritage. It's something we want to do in remembrance of Zik. We want to remodel and beautify it without making it look so modern," he explained.
On how difficult it has been retaining the building's Victorian style architecture in a modern era, Chukwuemelie who is the general manager and chief executive officer of Enugu State Housing Development Corporation, said it was a rather challenging task.
"It was challenging because we had to renew it and yet renew its original look. We're not changing the design of the house from an architectural standpoint.
"The places with wood, we will polish and retain but replace the bad ones," he said, adding that the reason they chose a black roof and were considering painting the building white was shaped by the need to retain its original splendour.
When completed and formally declared open to visitors, the structure will house Azikiwe's personal effects such as eyeglasses, letters, books and other items which his widow, Professor Uche Azikiwe, has promised to make available.