Kenyan Socialite Vera Sidika celebrates her 27th Birthday in 3 Cities (Photos)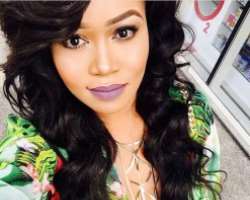 A celebrity birthday only comes once a year and usually commands a celebration. When it comes to celebrations, some stars want to keep them small and simple, while others want it big and lavish.
For Kenyan socialite Vera Sidika, it was small and lavish as she pulled all the stops to make her 27th birthday celebration something to remember.
The light-skin socialite certainly had an impressive birthday party that went on for days over 3 major cities in the world. From Milan to Paris and finally Dubai, where Vera enjoyed an intimate celebration with her mystery bae, who flew her from the Love capital into Dubai so they could celebrate it together.
Vera shared photos of her fun filled trip on social media and also talked about her rebirth.
She wrote;

"VERA… Meaning: true and faith. I could quite comfortably say that I've lived out my first three semesters and to shed some light on that, as everything comes in threes, for instance, beginning, middle and end, birth, life then death, father, son and holy spirit…… Etc. You get my drift. I've had my good, bad and ugly side of life., I'll say it as it is, all I've done in the past has been choices I've made for myself. 27…the Perfect Cube. If you didn't know, well, I'll enlighten you…. 27 stands for philanthropy and compassion and that is the torch I will carry henceforth. God has blessed me this far and I'll carry it forward. This is my rebirth. HAPPY BIRTHDAY TO ME."
Ciao Italia

To Paris

En route Dubai
Balling in Dubai