This couple keeps the deadliest snakes in the world as pets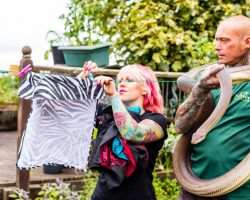 Two tattooed thrill seekers own reptiles with enough venom to kill an elephant, but that doesn't stop them from adding more of the world's most feared creatures to their ever-growing collection of pets.
Herpetologist Siouxie Gillett and her reptile-loving partner Simon Paul Keys care for over 80 snakes in a double locked room in their Dunstable, England, home they call the "Secret Sanctuary."
"We have several venomous snakes here at the moment including three Western Diamondback Rattlesnakes, and we also have a Malayan Viper," Gillett told Barcroft.
"The Malayan Viper is our most venomous snake here and this species actually kills quite a lot of people." Modal Trigger
Siouxsie Gillett and snake obsessed partner Simon Paul Keys with one of their pets. Photo: Barcroft Images
Despite their reputation for biting into human flesh, Gillett believes that the venomous serpents are misunderstood and she and Keys seek to educate others about them so they can tackle some phobias surrounding the animals.
"Most of the time people don't die from venomous snakes but it might end in trouble if you lose a hand or an arm," Keys told Barcroft.
Keys has been bitten by a snake a few times, though the experience wasn't enough to deter him from continuing his life's passion.
"I have been bitten by a copperhead snake twice, which isn't too bad in 25 years of dealing with snakes, but it was a real eye opener," Keys said. Modal Trigger
Siouxsie Gillett and Simon Paul Keys Photo: Barcroft Images
"I don't want to go through it again and I was lucky I didn't lose any digits but it was two weeks of hell – my arms swelled up to the size of Arnold Schwarzenegger's and started to turn black. The pain is like putting your hand into boiling water or fire and just as you think the pain is easing, times it by a hundred again," he added.
Taking care of the many reptiles is a full time job, as is caring for their neighbor's safety.
"All the neighbors have been here and know where the snakes are. We are very careful that every door is double locked, and the cages are secure, and we do a walk around every night," Keys said.
"But for some strange reason, the neighbors don't often pop around for cups of tea." said Gillett.
Keys and Gillette, who also own dogs, rarely get a holiday because they can't convince their neighbors to care for their pets while they're away. Modal Trigger
Siouxsie Gillett applies her lipstick with a giant tarantula perched on her hand. Photo: Barcroft Images
"Some people don't mind feeding their neighbors' fish but we can't ask them to feed the cobras, the mambas and the big lizards," Gillett told Barcroft.
To her mother's dismay, Gillett someday hopes to open a safari park with Keys. She is currently building a room in her home to house a 187-pound anaconda.
"My mom is being a mom, she's protective so she hates everything that I do. In the past I have worked with wolves and tigers and she hated me going to work and she still does," said Gillett.
The colorful snake charmers have traveled all over the world for their work and even spent time in Durban, South Africa catching problem snakes that they later released back into the wild.
They currently star in their own television series entitled, "Snake City" on Nat Geo Wild. Modal Trigger
Siouxsie Gillett and Simon Keys at home
Source: New York Post