DAKORE ON GHANAIAN ACTORS INVASION OF NOLLYWOOD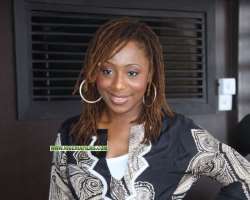 The infiltration of Ghanaian actors in Nollywood is a hot issue in both countries' Industry today; with some Nigerian actors blaming producers for engaging the services of Ghanaians (and rejecting Nigerians) due to low fees Ghanaians charge.
A fortnight ago, Sallam Mumuni, CEO of Venus Film Production (Ghana) confirmed on TV3 (Ghana) that Nigerian producers included at least a Ghanaian face in Nollywood Movies, lately, in order to easily penetrate the market outside Africa.
So why are Nigerian actors ranting when the producers have explained their reasons for engaging their Ghanaian counterparts? Hi Newspaper posed the above question to top Nollywood star, Dakore Egbuson, when she visited Ghana over the weekend.
"Honestly speaking, there is an element of jealousy among the Nigerian actors over the fact that Ghanaians are invading our industry. A fair amount of jealousy I don't see anything wrong with considering that this trend is new and people would always be skeptical about something new in the beginning. Personally, I don't have any problems with that, for the fact that we are all Africans", she says.
She said it was rather unfortunate this new trend started when she decided to take a break and concentrate on raising funds for her upcoming TV Talk Show. "I'm yet to act alongside/opposite any Ghanaian", Dakore said.
The screen goddess whose first visit to Ghana was some 4 years ago took a break from acting two-and-half years ago to concentrate on what she used to do before acting- television.
Her show, "The Dakore Show" would be a variety show that has elements of travel, dating and also delve into issues that confront the everyday African.
Dakore, whose name is a native Ijaw (her tribe in Nigeria) way of calling a girl who took after her father hails from Bayelsa State where this year's African Movie Academy Awards (AMAA) was held. She is always spotted wearing locks because "it makes me look more African and always keeps me in touch with my root."