Gov. Ugwuanyi affirms readiness to partner communities for development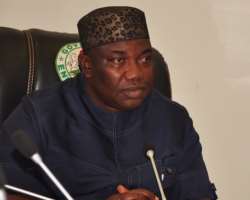 Governor Ifeanyi Ugwuanyi of Enugu State has said that his administration was willing to work with different communities in the state to create the requisite environment for development projects.
Speaking while performing the foundation-laying ceremony of Iyewuzhi/Umjunevo Ogui-Nike Multi-Purpose Civic Centre, Governor Ugwuanyi lauded the visionary efforts of the leaders of Ogui Nike Community who he noted had embarked on such project despite the prevailing economic slump.
He said that the civic centre, when completed would no doubt boost economic activities in the community, pointing out that youths and women were bound to benefit from the skills acquisition arm of the centre.
At another event, the Annual New Yam (Iya Ji) Festival also organized by the same community, Governor Ugwuanyi urged them to continue to uphold such cultural festivals which help to foster peace and engender unity among the members of the community, noting that government was happy with their sons who were serving the state in different capacities.
Earlier in his welcome address, the president-general of Ogui Nike Town Union, Chief Paul Anike, who described the governor as a "people-oriented leader" noted that the leadership of the community was committed to providing the indigenes with the best opportunities for good lives, pointing out that the civic centre estimated to cost about N250 Million Naira would help alleviate poverty as well serve as a veritable source of revenue.
The highlights of the events were the laying of the foundation blocks and the formal commencement of the Iya Ji Festival amid spectacular dances by various troupes and the sounds of booming cannons.