How Atiku Arrests Souls With Message Of Hope....How Atiku Arrests Souls With Message Of Hope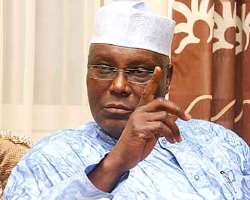 There is a lesson that might be learnt from a message delivered by a former Vice President and one of the leaders of the All Progressives Congress, Atiku Abubakar, to memorialize the 25th anniversary of the creation of Adamawa State.
The fête has gone since August but not with the memorandum of encouragement from Atiku. That message of hope delivered by Atiku's media office tells us that out of difficulty comes out miracle. It's a message that those in business should hold so dear, likewise artisans, technocrats and others, knowing that gold passed through the heating system.
Successful people passed through pains, through anguish especially when the persons were prepared to achieve, prepared to make a difference, prepared to soar like the eagle trained among chicks that must fly away. This is the message that Atiku has delivered to Nigerians. It is a great lesson from Atiku indirectly stating that nothing remains for ever except written words.
In these times of hardship and bitterness due to the shoddy dungeon the successive governments in the country have thrown the country's economy into, we may learn from Atiku that there was once insurgency of Boko Haram in Adamwa State, but today he has been thanking the exertions of the federal and state governments, international organisations and most importantly, the American University of Nigeria, AUN-Adamawa Peace Initiative, in making sure that there is respite in the state.
This suggests that neither the aroma of summer nor the hollow of the night last forever. Some persons do not believe that they will get over whatever they are passing through in their lives, but here is Atiku telling us that what does not kill one makes him or her stronger. Boko Haram came in Adamawa and today, the people are celebrating in peace.
Known as Turaki Adamawa, he believes that his aspiration in life is to exceed every endeavour he has rendered to mankind. It is sad that many people relax and rest at any given success. Atiku, however, has another view which is, there is no rest when it comes to contributing positively to mankind. He therefore held the same message of hope on the celebration of the festival of Eid el-Kabir celebration in September.
Although, speaking to Muslims in the spirit of the festivity, but covertly speaking to every enterprising mind, Atiku apparently said that Nigerians can only move farther when they take being their brother's keeper as a task that must be done.
The igniting point was when he said that no matter what anybody is passing through in life, he or she should not avoid being happy and jubilant. Oh! In his words, "Nigerians should celebrate like other people in the world in spite of the economic situation facing the country. Sallah celebration calls for sober reflection, prayers, cooperation and the display of solidarity among Nigerians so that no one feels left out."
The Turaki Adamawa had held the same tempo of hope for Nigerians when on Democracy Day, May 29, he advised that democracy remains the best forms of government no matter what the restraints and constraints are.
He talked about choice which he said is a major tenet in the democratic system. He was invariably telling those who might be facing depression that happiness is a choice and it doesn't require the amassing of all the wealth in the world to be happy.
Atiku has not disappointed in his message of hope; he raised hope during the 56th Independence Day celebration on October 1, suggesting that those who perhaps think that all hope was lost, should rescind their view and see optimism as their partner.
Some persons might be asking what was Atiku talking about 'having hope' whereas to feed in the present country, is too hard a thing. They should realise that the Igbo proverb says, if 100 years owe a person, one day will pay the debt.
Inter alia, Atiku had Nigerians in mind when he said: The average Nigerian is worried about the state of things and yearning for a vibrant economy within a peaceful and stable environment so that he/she can carry on with daily endeavours to make ends meet. The truth is that Nigerians should have a desire to surmount the hard times by incessantly applying positive efforts to overcome. Many people do not know that their time to be successful is where they are at present.
The Turaki Adamawa made and still makes sense with his message of hope to Nigerians. He has planted in discerning minds the seed of success, patience, pushiness and perspiration rather than the spirit of failure. Atiku has stolen the show by telling Nigerians that when their illustrious expectations were yet to come, they can individually do positive small things in illustrious ways.
Nigerians should therefore uphold Atiku's message of hope by making sure that they build the spirit for unconquerable amalgamation for success; let negative imagination not becloud people's sense constructive conduct. The present situation in the country is really discouraging, but Nigerians should not be discouraged, because those who quitted because defeat overtook them, never succeeded.
Odimegwu Onwumere is a Poet, Writer and Consultant based in Rivers State. Tel: +2348057778358. Email: [email protected]
Disclaimer:

"The views/contents expressed in this article are the sole responsibility of

Odimegwu Onwumere

and do not necessarily reflect those of The Nigerian Voice. The Nigerian Voice will not be responsible or liable for any inaccurate or incorrect statements contained in this article."
Articles by Odimegwu Onwumere