Governor Dickson Has No Enemies To Fight.....Dickson's Victory To Stays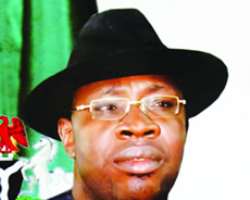 As we expect the appeal court to deliver judgement on the Bayelsa State governorship election of 2015/2016, we strongly believe that once more, like the election tribunal, Dickson will win resoundingly.
The PDP side is relying on 'God' and the 'truth', and the appeal court will re-confirm the result of INEC and the stand of the tribunal because the victory of the PDP side was very resounding and clear.
In history, God has always proved that frivolities will never stand the test of time. The same God that gave victory to the countryman governor is about to tell those who dwell on frivolities that there game will surely fail.
If you think you are fighting Dickson, you have failed because Dickson has no enemies to fight. He is working with God and with the truth.
Governor Dickson has done wonderfully well during his first term in office and is still doing all within his powers to carry the state through the path of hard work, dedication and truth. It is time for the detractors of the governor to repent and work with his team to move the state foreword.
While the enemies of justice are standing on shaky and sandy foundation of deceit and manipulation, those of the PDP are standing on a very solid and unshakable rock of the true God of heaven.
Governor Dickson has always relied on God, in all his dealings. And as the saying goes, 'one with God is majority'.
All good willed people of Bayelsa should be prepared to celebrate the victory of the visionary leader of the state.
These are all two great sons of the state, we expect the loser at the past election to call the winner and congratulate the winner (the countryman governor) after the pronouncement of the victory of the incumbent governor by the Appeal court today as expected and not to continue with a game that is sure to fail.
God bless Bayelsa State.
God bless PDP
God bless governor Henry Seriake Dickson.
Disclaimer:

"The views/contents expressed in this article are the sole responsibility of the author(s) and do not necessarily reflect those of The Nigerian Voice. The Nigerian Voice will not be responsible or liable for any inaccurate or incorrect statements contained in this article."