Teacher's aide sacked for racist Facebook posts calling Michelle Obama gorilla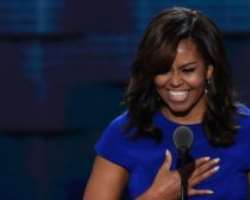 A teacher's aide at a Georgia elementary school has been fired after posts she wrote on Facebook surfaced last week, enraging community members and people across the country who saw her words shared widely online.
In them, the aide, Jane Wood Allen, called first lady Michelle Obama a "gorilla" repeatedly and said she is a "disgrace to America!" according to images  of the now-deleted posts obtained by local media.
Many Facebook users immediately called for her termination and used the hashtag #FireJaneWoodAllen. "I am disgusted that this woman is an ELEMENTARY SCHOOL EMPLOYEE," one woman wrote on Facebook. "Please if you're sickened by this like I am email the superintendent and file a complaint!"
On Monday, the district announced the aide had been "relieved from duty and is no longer an employee of Forsyth County Schools."
Allen worked as a paraprofessional, or teacher's aide, at Chestatee Elementary School in Gainesville, reported  the Atlanta Journal-Constitution. The school is part of a majority white district, data shows, with black students making up just 3.15 percent of the student body.
"Racism and discrimination are not tolerated in our school district," Forsyth County Schools wrote in a post on Facebook. "We are committed to ongoing staff training on the acceptance of all individuals. As this is a personnel matter, the district will provide no further comment."
Attempts to reach Allen by the Journal-Constitution were unsuccessful, according to the newspaper.
The Internet effort to get Allen fired began Friday morning, reported the Journal-Constitution, after University of Houston PhD candidate Roni Dean-Burren posted images of the aide's comments to Facebook, asking, "Is that who you want teaching your kids? #askingforafriend"
"I think that this concept of referring to black people as monkeys or apes or gorillas is an age-old sort of racist comment that we've seen in this country for way too long," Dean-Burren told the Journal-Constitution.
On Saturday, according to the newspaper, her most recent post had been shared more than 3,700 times and garnered 620 reactions and more than 400 comments.
CONTENT FROM JAGUAR After these rogue moments nothing was the same again
Journey through the moments in time that shaped the way we live our lives now.
"This poor Gorilla," the post began, accompanied by a link to a conservative news site about Michelle Obama. "How is she going to function in the real world, by not having all of her luxurious vacations paid for anymore? She needs to focus on getting a total make-over (especially the hair), instead of planning vacations! She is a disgrace to America!"
In another post, Allen shared a story from Opposing Views which pointed out that Michelle Obama had topped several lists of the world's most admired women. "Do you admire her?" it asked.
Allen responded: "I admire a gorilla more than I admire her. (Wait, I forgot, she is a gorilla)!"
The aide criticized the first lady again for taking alleged exorbitant trips on the taxpayers' dime.
"She is the worst example of a First Lady ever!" Allen wrote. "(Oh sorry, I meant gorilla not First Lady)!"
Other posts were considered anti-Muslim and anti-Hispanic, reported Forsyth News.
"Bye! Don't come back!" Allen wrote  beside an article about Muslim-Americans and Donald Trump. "You have no business in the USA anyway!"
The idea that black people are apelike "began with the first European contact with Africans," Phillip Atiba Goff, a UCLA psychologist, told  the Root, but using it as an insult in the United States seems to have risen since the country's first black president was elected. Racist memes depicting President Obama and his wife have infested the Internet for nearly a decade now.
People continue to share them on social media, and some continue to lose their jobs because of it.
Just this week, a Pennsylvania mayor refused to resign his post after publishing racist Obama memes to his Facebook page. One depicted the first family as orangutans. Last week, an East Tennessee State University student was  arrested after he wandered through a Black Lives Matter protest barefoot, wearing overalls and a gorilla mask and passing out bananas.