CBN disburses over N467bn on intervention projects – Emefiele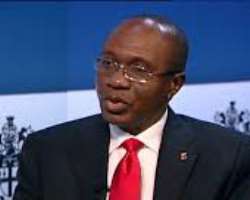 The Central Bank of Nigeria (CBN), on Tuesday, announced that about N467.92 billion has been disbursed to various projects under its development finance intervention scheme between 2009 and 2016.
The CBN Governor, Mr. Godwin Emefiele made this announcement while delivering his goodwill message at the ongoing two-day international conference on 'Environment Dialogue 1: Diversification of Economy - The role of Jatropha,' a programme being organised by the Federal Ministry of Environment, held at the NAF Conference Centre, Abuja.
He stressed that the banking industry was currently developing a roadmap to increase lending and investment in renewable energy and energy efficiency in line with the global momentum on climate finance.
Mr. Emefiele, whose message was delivered by Dr. Aisha Mahmud, said the CBN, as a major stakeholder in the financing value chain has a number of development finance interventions which producers, processors and other significant players in the jatropha value chain could access so as to realize the desired objectives.
The interventions, according to him, include Commercial Agriculture Credit Scheme (CACS), Micro Small and Medium Enterprise Development Fund (MSMEDF), as well as Anchor Borrowers Programme (ABP) and Real Sector Support Facility (RSSF).
The CBN boss explained that CACS which was established in 2009 to address the financing challenges of the entire agriculture value chain (production, processing, storage and marketing/distribution) has provided finance to large scale commercial farmers at single digit interest rate, with a total of N366.39 billion disbursed to 465 projects since inception to June 2016.
'MSMEDF was established in 2013 to cater for the financing needs of the micro to medium enterprises. The objectives include provision of cheap wholesale funds, deepening access to finance, job creation and grassroots economic development. It targets various sub-sectors including agricultural value chain activities and cottage industries. As at June 2016, a total of N81.13 billion was disbursed to 315 projects.
'ABP is a CBN policy initiatives aimed at reduction of agricultural imports, diversification of the economy and creation of jobs. It provides small holder farmers (out-growers) with credit facilities at single digit interest rates and at the same time links them up with anchors (up-takers) of their produce to mitigate their risks.
'Although, originally launched for rice farmers, it is being extended to other agricultural commodities. The sum of N15.8 billion has been disbursed as at June 2016', he added.
On RSSF, the CBN governor said about N4.6 billion has been disbursed to two projects since its establishment in 2014, adding that the scheme was aimed at closing the short term/high interest financing gap of the SME/real sector.
According to him, it focuses on projects with high growth potentials, high employment capabilities, capacity to extend the industrial base and consequently diversify the economy.
He, therefore, declared that the interventions were loans and not grant, which must be repaid as at when due to ensure their sustainability.
In her keynote address, the Minister of Environment, Hajia Amina Mohammad said there were about 175 species under the genius jatropha but jatropha curcas (L) appears to be the most popular because of its environmental and economic values.
She said many studies have identified the prospects of this important plant in the restoration of the degraded environment, provide alternative energy source such as bio diesel and create wealth for the teeming Nigerians.
The minister was, therefore, optimistic, that by the end of the conference, all the advantages and disadvantages of Jatropha value chain would have been well articulated for the formulation of a draft national strategy for the Jatropha value chain that would enable government in diversifying economy through measurable investments in climate smart agriculture.
Hajia Mohammad said it would help government curbing the restiveness in the nation, economically and empower, especially young people through job opportunity leading to an improvement in their livelihood.
According to her, it will integrate Jatropha in the various afforestation programmes of the ministry, especially Great Green Wall and the various states with a view to reaping the huge environmental dividends that came with its production, processing and marketing.