El-Zakzakky: Why The Law Must Take Its Course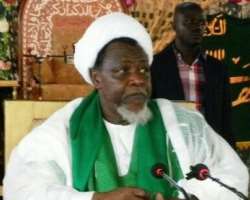 "Nigeria is pouring fuel on fire." This is the recent instigative catch-phrase or the inflammatory remarks of immediate past Iranian Ambassador to Nigeria, His Excellency, Saeed Koozechi over the detention of Islamic Movement in Nigeria (IMN) Leader, Sheik Ibrahim El-Zakzakky by Nigerian security agents.
The withdrawal of Ambassador Saeed Koozechi from Nigeria and his replacement with another comrade, Ambassador Morteza Rahimi Zarchi signifies the desperation of President Hassan Rouhani of the Islamic Republic of Iran to keep an eye on Nigeria. Probably, Iran or the Nigerian government is misreading the minds of the people. Nigerians want no further official links with Iran and its Embassy in Abuja. The Embassy should be closed and further diplomatic ties with Iran should be severed.
If former Iranian Ambassador Koozechi could "pour fuel on fire" in Nigeria, his successor has the same briefs. Fuel by its nature is extremely inflammable. Added to fire, anybody can guess the consequences. It's like wild fire experienced by some western countries in the recent past, which consumed a whole Naval Base in Russia.
The Republic of Iran, with its notorious status as founders of Islamic State (ISIS) and global terrorism is making no pretensions about its sponsorship of such acts of terror in Nigeria. The quoted statement unfortunately attributed to the withdrawn Iranian Ambassador to Nigeria, His Excellency, Saeed Koozechi, abundantly justifies his country's veiled sponsorship of terrorism in Nigeria in all its ramifications.
Koozechi's diplomatic gut in Nigeria demoralizes. But more to it, his remarks portrayed Nigeria as a nation which has buried its pride and competencies to interrogate demonic interference with the sovereign rights of her citizens.
It's extremely annoying dimension was Koozechi's explicit undiplomatic undermining of efforts of the Nigerian government over the Shiites/IMN clash with Nigerian soldiers in Zaria, December 2015. Nigerian government (Kaduna state) reacted to the incident by setting up a Judicial Commission of Inquiry (JCI).
While the JCI, an initiative of Kaduna State Governor, Mallam Nasir el-Rufai was probing the incidence, the Nigeria's National Human Rights Commission (NHRC) also waded into the incidence by setting up a probe panel. But a foreign ambassador to Nigeria could not wait for the verdicts of the probes by these lawful institutions, but preferred to incite his comrades in noxious religious fanaticism to unleash "fire" on Nigeria.
Iran has undisputed links with Boko Haram Terrorists (BHTs) in the country, which it has confirmed through numerous publications, as its West African wing of the Islamic State (ISIS).
Legitimately too and overlooking the permissible, but shameful flaws on the part of Nigerian state, assignments of foreign missions in any country is strictly diplomatic to mainly promote healthy relationships among countries under the umbrella of United Nations (UN) of the world.
What is certain is that it does not extend to their Excellencies on foreign missions to appropriate to themselves the laxity and disreputable, offensive role of issuing inciting and inflammatory comments on their host countries' very sensitive security issues. A foreign mission anywhere in the world is not a blank script.
It lucidly defines limits and extents such foreign countries can interfere into the internal affairs of their host. But Ambassador Koozechi mindlessly overstretched it in Nigeria.
He instigated the violent Shiites members of the IMN, famed for their untamed flair for violence to rise up against the Nigerian government and her people for the detention of its Leader in Nigeria, Sheik Ibrahim El-Zakzzaky. This is undiplomatic. It was a wonderful and murderous impunity from a diplomat and reveals Iran's real intentions on Nigeria.
It calls to question whether Nigeria's intelligence security apparatus is in coma or in an emergency ward in an unnamed hospital in Abuja, the seat of Nigeria's federal government. But if they deny this assertion, it means, one of these two propositions. It is either they are in deep slumber or stone dead, ultimately dazed with some liquor on their duty posts. Iranian presence is still sighted in Abuja, where it possibly and inconspicuously incites more protests to crudely press for the release of IMN leader in Nigeria.
Nigerian security agencies fear a diplomatic row, but allow an Iranian Ambassador to freely trudge on the rights of Nigerians to the extent of undermining the country's sovereignty with such acerbic and vitriolic comments. It's amazing that security agents could not do as little as inviting him for explanation before his redeployment. Nigeria is really a wonderful country!
No Nigerian ambassador or anyone on such foreign mission in another country can assume such liberty to dabble into his host country's internal and delicate security affairs. Not with such instigative intent as typified by Koozechi without being appropriately reproached.
However, Ambassador Koozechi and his Iranian bosses cannot rise above the Nigerian government or its institutions. The Kaduna State JCI on the IMN/ soldiers clash chaired by Hon. Justice Mohammed Garba submitted its report on the crisis since July 15, 2016.
A nine-member White paper drafting committee has also been set up by Governor el Rufai. While awaiting the white paper, the JCI's report has clearly indicted the Leader of the Shiites/IMN, Sheik El-Zakzakky and his incensed members for the sustained acts of lawlessness and particularly, the unlawful attack on the convoy of the COAS, Gen. Tukur Buratai in Zaria.
Parts of the panel's report states inter-alia; "Members of the IMN owe absolute loyalty to Sheikh Ibraheem El-Zakzaky. He therefore bears responsibility for all acts of lawlessness committed by the organization and should therefore be held responsible, fully investigated and prosecuted."
Demonstrating their unrepentant passion for violence in the guise of religiosity, the report admitted that even calls by Governor el-Rufai to Sheik El-Zakzakky to restrain or prevail on his followers to open the aisle for the COAS were rebuffed. El=Zakzakky's intervention at that critical hour would have saved the souls and lives of Nigerians on both sides, wasted in IMN's violent confrontation with the Nigerian army. But he irreligiously declined.
The JCI repeated in several paragraphs of the report that the IMN leader and his adherents have become an epitome of outlaws in that part of the country, at different times. The COAS incident only exposed their violent insanity and their prosecution would serve as deterrence.
In spite of the Constitutional provision for freedom of worship, religious sects have no reason to consider it a license to trample on the fundamental rights of other Nigerians to enjoy their prescribed, lawful liberties.
The JCI frowned that; "From the testimonies of the State Security Service (SSS), the Nigeria Police, groups such as the Jamaatu Nasril Islam (JNI), communities such as Gyallesu Community, Sabon-Gari community and a host of others, including individuals, it is clear that the menace of the IMN activities had been going on (seemingly unchallenged) for quite a long time."
Notwithstanding the assailing guilt, the Shiites or IMN in Nigeria and their sponsors organized fresh protests. They disparaged the report as biased and lopsided, even though the JCI submitted a report widely hailed as impartial.
But while they delighted in their fantasy of unchallenged lawlessness, it blindfolded them against the new order in Nigeria. The same damning verdict handed over to the IMN by the JCI was separately re-echoed by another independent body- the National Human Rights Commission (NHRC).
It urged security agents to expedite action on the trial of members of the IMN, who assailed the convoy of COAS in a dismissive affront on Nigerian laws. The verdicts of these two separate bodies could not have necessarily skipped the truth.
What remains certain is that the IMN members transgressed the laws of the land. The COAS incident is not the first of such transgressions. The Shiites in Nigeria have a reputation for this religious indecency and easy resort to unprovoked violence.
Security agents, especially the DSS would do Nigerians a favour by arraigning Sheik Ibrahim El-Zakzakky and suspected Shiites members to court for alleged willful breach of national security. This should be done immediately because during the Shiites clash with the army and its aftermath, large cache of arms and ammunitions have been found in the possession of IMN members. Its an indication of their sponsorship by Iran, which warranted their confrontation of a constituted authority. Iran aims to destabilize the whole West African region and governments of countries in this region should be watchful.
In the meantime, Nigeria is no longer a pariah state in the comity of nations, as stated by President Buhari in his 2016 Independence Day speech and diplomats who brazenly traduce UN ethical code, like Koozechi, in host countries should be severely reproved by the world body.
Security agents should not only ensure that the Iranian Embassy in Nigeria is closed, but its redeployed Ambassador, Saeed Koozechi, who presented himself as a spy and certified agent of ISIS in Nigeria, be prosecuted. Iran is secretly plotting to ignite a religious crisis in Nigeria worse than the experience of Somalia, Syria and the rest.
In addition, DSS and NIA should thoroughly investigate their activities in Nigeria in the last few years to halt such further abrasions on the sovereign rights of a nation.
But if Nigeria's security agencies have taken Koozechi's remarks for granted, a coalition of human rights groups and the National Interfaith and Religious Organizations for Peace, numbering over 500 civil society groups are getting increasingly uneasy that Nigeria still maintains an Iranian Embassy in the country to erode the gains the Nigerian military has made over terrorism. Their massive protest to the Iranian Embassy in Abuja a few days ago sufficiently conveys this message.
Okeme , Executive Director, National Peace Network contributed this article from Lagos.
Disclaimer:

"The views/contents expressed in this article are the sole responsibility of the author(s) and do not necessarily reflect those of The Nigerian Voice. The Nigerian Voice will not be responsible or liable for any inaccurate or incorrect statements contained in this article."